Back in the days of no TV and poor spectator facilities at tracks (many of which were just closed-off open roads), the colour of the car you were hoping to take the victory flag was all-important. In the distance you'd see a red car coming. It's an Italian! Hotly pursued by a silver car. Oh no, a German! Then a gaggle of three blue cars (those swift little French Gordinis most likely). And so I like to keep up a little bit of that four-wheeled-nationalist tradition by preferring classic colours for my diecast cars. 
Of course there are countless exceptions to this rule (especially with street cars), but all my sporty Italian cars are red (or as reddish as I can manage), all my sporty Germans are silver, the racetrack French are blue and the British green. While the cars I have to show you today are street cars, they all have some strong sporting connections. And besides, I just like red Italian cars.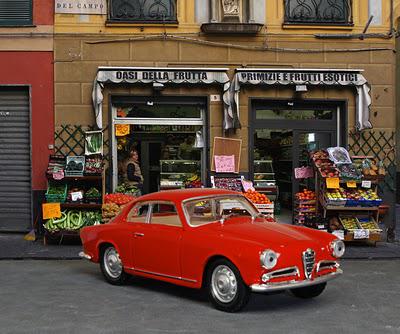 A 1957 model Alfa Romeo Giulietta Sport, stopping off to buy some fruit in its home town.
This is a 1:43 model by Solido (who, by the way, manage to spell Giulietta incorrectly
on the underside of the car, transposing the i and the u to Guilietta). That aside, it's a nice
little model, but as a non-expert in Italian cars I couldn't tell you how accurate it is.
With Italian cars the bodybuilder or designer is always an important detail, and this chic little Alfa wears clothes by Bertone, and I think it's one of the prettiest cars of the era. As well as being pretty, it was a successful car, being produced from 1954 through to 1965, with 132,000 Giuliettas built. This 'Sprint' model had a 1290cc straight four, twin cam engine which produced 80bhp @ 6300rpm, propelling the car to 88mph (142k). The faster Sprint Veloce got up to 112mph and the Sprint Speciale made it to 120mph, which is getting very quick for the roads back then. And so, the only You Tube which could do justice to this car is one where it is being driven with verve on an open road. Historic footage from 1958 no less.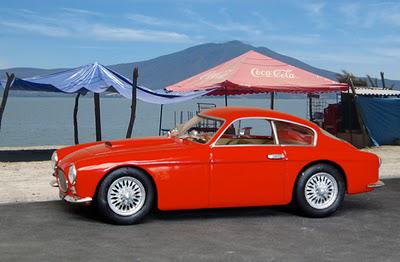 1952 model Fiat 8V, with the Zagato body, stopping off for a cool Coke somewhere in the
Caribbean. This is a rare car. Only 32 with this Zagato body were ever made, and only
114 Fiat 8Vs of all body types weremade in its short production run from 1952-54.
The nickname for the Zagato-bodied 8V was 'Elaborata'. This nice 1:43 model is made
by the German firm, Starline, who has a fascinating range of mostly but not
exclusively Italian cars and bikes. Here's a link to them.
8V? Yep, it's a V8, a little one: a 2-litre, twin cam 70° V8 which initially made 105bhp @ 5600rpm, and later on made 115bhp @ 6500rpm when twin four-barrell Weber carbs were fitted. The car weighed only 996kg and was more than sporty: race-prepared 8Vs won the Italian 2-litre championship several times in the 1950s.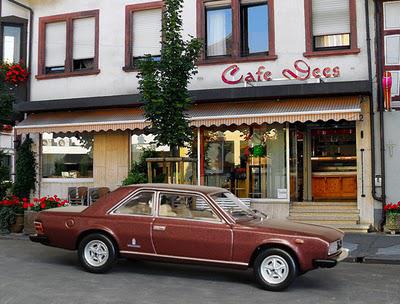 This is a lovely Fiat 130 Coupe, its owners having lunch in Germany after a memorable
drive up from Italy. OK, reddish is the best I can do here with this Starline model. If I couldn't
get a reddish one I would haved looked for a silver one, as that was the colour of the
Fiat 130 Coupe owned by a good friend here in Sydney. That little badge to the left of the
door says this is a Pininfarina designed car, and didn't they do a lovely job with this
big Fiat? First appearing in 1971, it's a classic minimalist 1970s design exercise
in straight lines and subtle angles. Not a line out of place.
While the Pininfarina body is worth the price of admission alone, the powerplant has a fine pedigree as well. Designed by Ferrari engine designer Aurelio Lampredi, the 3234cc, 60° twin cam V6 produced 165bhp @ 5600rpm, propelling the car to a top speed of 117mph (189k). The most common transmission was a 3-speed auto, but a 5-speed manual box was an option. This car was a luxury tourer, and from a memorable trip in the 130 around the wine-growing regions about 120 miles to Sydney's north, with my friend and our respective partners, I can testify to its excellence as a four-person luxury open road car.
This is one classic car that doesn't have a big price tag attached to it these days. They only made 4294 examples of the 130 Coupe, and the usual enemies of rust and neglect have whittled down that number. Here in Australia, spares prices are higher than astronomical, and so my friend just couldn't afford to keep his 130, and when it came time to sell it (and he did so very reluctantly) it took ages to find a buyer. It's that sort of car. Beautiful, not all that successful, and not all that popular. If I was a rich man, I'd have one in my extensive underground garage of classics.
To finish off with another video: this is a nicely produced ad for a Fiat 130 Coupe made by a Dutch car seller. A bit of on-road footage, a loving walk-around, a peek at the engine at idle, it does justice to this car, which is a classic that is definitely undervalued.