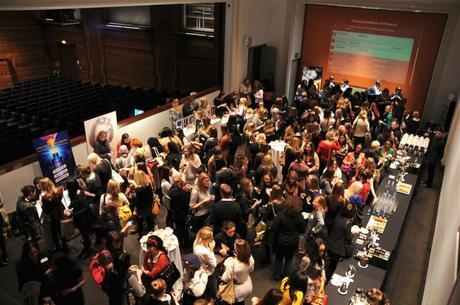 (image from HPM gets social)
Monday saw me rise super early on little sleep, spend an amount of money that should be illegal on a train ticket, and a minor instance where I got a tad lost all in the name of Handpicked Media Gets Social. I didn't know really what to expect and kind of saw it was like a blogger meet up come blogging conference type thing!
I arrived just after 9am and was greeted by the lovely HPM team with a name badge (that actually stayed on!) and an amazing goody bag. I walked into the blogger bar and helped myself to coffee while wondering round looking at the tables from all the sponsors showing off all their little samples for us to try at our peril, plus the chance to get your hair done!
The day started with a brief introduction about Handpicked Media and the reasons behind the day and then it was straight into information overload from Garry Davis from Why Communicate, explaining all about SEO, different blogging platforms, widgets and all matter of things that will help drive traffic to your blog including an amazing fact that a good, relevant and compelling title can drum up more traffic to your blog by 73%!
Garry was followed by Rebecca Miskin from Hearst talking about Print vs. Online media and where she thinks it is heading. Rebecca's chat was fairly short and sweet and was followed by the amazingly inspirational Sháá Wasmund, who had a whole page of notes but decided to scrap that in favour of some improvisation and I'm glad she did. It is obvious she is a fantastic public speaker, and definitely knows her stuff, I managed to pick up her book that she co-wrote Stop Thinking Start Doing and read it cover to cover in a mere three hours and was left so inspired was up til 3am doing proactive stuff!
After lunch we was then further blown away by the PR Guru Mark Borkowski, with a captivating slide show to accompany his wicked speech, which covered that nothing is original but be careful what you copy, and that you shouldn't waste time on people that hate your blog and instead spend it on the ones that already love it! Your blog is like marmite!
Jane Cunningham of British Beauty Blogger fame talked us through the rules of engagements for bloggers and PRs and working together, and all the other do's and don'ts. 
The day was rounded off with a beauty panel and a fashion panel, who talked about their experiences with blogging and what they thought it was, that got them to where they are today and answering everyone's burning questions.
All in all it was a fantastic learning experience that was eye opening, informative and motivational and I can't wait til the next one!
You can read the tweets that made #hpmsocial trend three times that day here!
"believe in yourself"