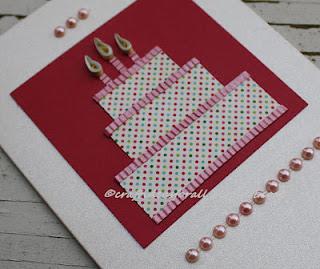 I recently made this card for a dear friend's daughter's third birthday. I wanted to make something simple and  sweet and what better than a birthday cake :). I made a three tier cake with three candles using printed card-stock and paper quilling strips. I used quilling just for the candles. I love how the pink pearls add to the prettiness of the card. Hope the birthday girl loves the card  as much as I loved making it for her.
Talking about little girls and birthday cakes here's a cute story. My niece just turned four. After blowing out the candles on her cake she closed her eyes and very loudly announced her birthday wish "I wish I get a lot of stickers". All the parents in the party could not stop smiling. I do hope her wish is fulfilled soon :).
Here is one more photograph of the card.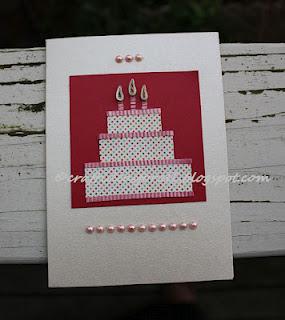 We would love to know what you all think about the card. Your comments mean a lot to us. They keep us going on days when the general business of life makes it difficult to take out time for creating :). Have a great week ahead all of you and happy crafting.