Living for over a decade in Bombay, food sold off the streets of Bhendi Bazaar embodied an immortal relationship with my college/work life – an affair so absolute and unconditional. A solitary place to remind ourselves that we are so broke yet intoxicated with simple joys. While meat dominated the scene, Chana Bateta stall near the mosque saw a rush of people from different walks of life followed by handi. Sold for a mere 0.50 paise or sometimes free if you had a rapport with the vendor, Handi was a soft whisper in the mouth amongst the noisy vehicles honking their way through a lane so small.
You may wonder what Handi is?  It is a canapé made from boiled potatoes weaving with steamy ragda , spicy-sweet chutneys and crisp nylon sev for a magic only a street food can conform to. Ragda is a dried mashed medley of white peas, onions and tomato with hint of spices usually forming an integral part of street food – think of pani puris and ragda pattice.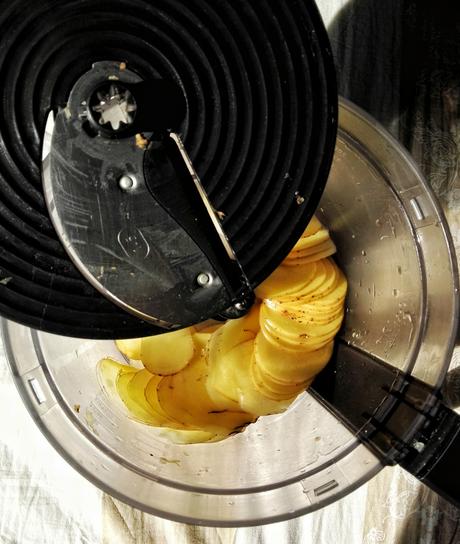 Although this one is my favorite Iftar item during Ramadan, I squeeze in on days I only feel like having chaat for my meal. But that could be just me. Ever known of anyone substituting street food for a meal? I wouldn't even say it is a party food because you have to make these 'just before serving'. And when I am hosting at home, I don't prefer spending too much time in the kitchen while my guests entertain themselves. So when should you make Handi?! Everytime you want to bring a bit of Indian street food in your home and kitchen!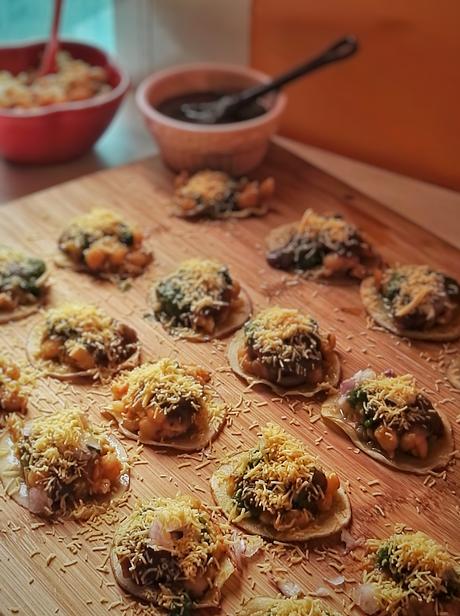 If you make this recipe, kindly share your photos and feedback with the #thoughtsoverchai on Instagram and Facebook. I'd love to see your creations!
Handi - Potato Canapes
Ingredients:
For canapes:
Potatoes – 2, medium and long
Nylon sev – ⅓ cup
Tamarind and date chutney – ⅓ cup
Green coriander chutney – ⅓ cup
Onion – 2
Coriander – 2 to 4 tbsp, chopped
For Ragada:
Yellow dry peas – 1 cup
Onions : 2
Tomato – 1
Ginger – 1 tsp, grated
Garlic – 1 tbsp, grated
Red chilli powder – 1 tbsp
Turmeric powder – 1 tsp
Cumin powder – 1 tbsp
Salt to taste
Cumin seeds – 1 tsp
Garam Masala powder – 1 tbsp
Oil – 2 tbsp
Method:
For Ragada :
Soak the yellow peas overnight and pressure cook with little salt and turmeric for 1-2 whistles.Do not pressure cook for long otherwise it will become very mushy.
Using Philips Onion Chopper, finely chop the onions. Heat oil and sizzle the cumin seeds. Add onions, ginger and garlic. Saute till the onions turn translucent. Mix in the spices and tomatoes and cook till the mixture comes together.
Add cooked peas and enough water (about ½ cup) and boil until the gravy thickens. Slightly mas the peas with back of the spoon to get a thick gravy. Taste and adjust the seasonings.
For Canapes :
Plug the Philips Food Processor and fit the slicer blade in. Taking one potato at a time (with skin on), slice them into thin rounds.
Preheat Philips Air Fryer and preheat at 185 Degrees C. Spray the basket with non-stick cooking spray and place the sliced potatoes. Cook for 5 minutes until cooked and slightly crisp. This should take around 4-5 rounds for 2 potatoes. Keep aside
To assemble:
Chop the onions using Philips Onion Chopper.
Place the cooked potato crisps on a serving plate.
Top with prepared ragada, green chutney, talarind chutney, chopped onions and finally nylon sev.
Serve immediately.