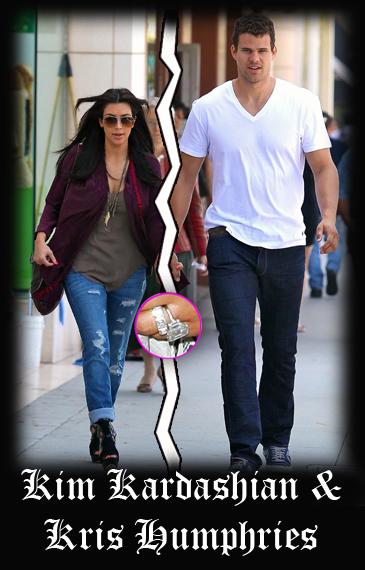 Kris Humphries is adamant that he wants the Gigantic Engagement Ring that he gave to his wife of 72 hours Kim Kardashian back. This divorce battle seems to be going on forever for Kim especially who is already dating singer Kanye West and as her representatives in court claim that she is handcuffed to Kris Humphries.
"Kris is adamant that he wants the ring back," a source told RadarOnline.com. "And it's becoming a real sticking point between his and Kim's attorneys. She has made it plain that she has no intension of returning it though and feels she is within her legal right to refuse as she went through the wedding. However, Kris contends that the marriage was a total sham and that Kim wed him for publicity and hence she has no right to keep such an expensive gift.
The thing that Kris refuses to understand is that even though Kim publicly claimed that the marriage was a huge mistake and surely the Engagement Ring has no sentimental value attached to it, then why does she still want to keep it.
The ring in question is a 20.5-carat ring with an emerald cut center stone flanked by a pair of trapezoids. The basketball player scored a huge discount on the massive bauble, which was valued at a retail price of $2 million, but he paid a cool $750,000 of his hard earned cash for the stunning 20.5 carat diamond Lorraine Schwartz ring.
It's just another wrinkle in the Kim Kardashian divorce case that will last until February 15th at the earliest. That's when a judge has set the next hearing.
So whether they like it or not they will still be legally 'on paper' that is be a couple this holiday season.  Kris just wants to end this but wants to do it on his own terms. Guess we will only know early next year.
Also Read : Kim Kardashian & Kanye West to Tie the Nuptial Knots Soon