Stephanie and Michael told me, "All [our invitations and stationery were] cre­ated by the won­der­ful Lydia of Hand Drawn Maps. We had a bespoke motif with our ini­tials (our par­ents had this put on cham­pagne glasses for the day!) and she incor­po­rated the rose theme into all the sta­tionery."
"She drew an amaz­ing map of the local area with some lovely per­sonal touches like the chick­ens in our back gar­den – as well as send­ing with the invites, we also had it blown up on the day. Our favorite item from her was our table names – all the places we love in Corn­wall on a bril­liant map show­ing every­thing that is spe­cial to us about those places."
Lydia very kindly sent me some pictures of her maps to show you. I hope you love them as much as I do!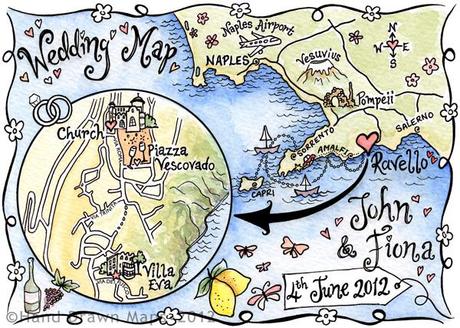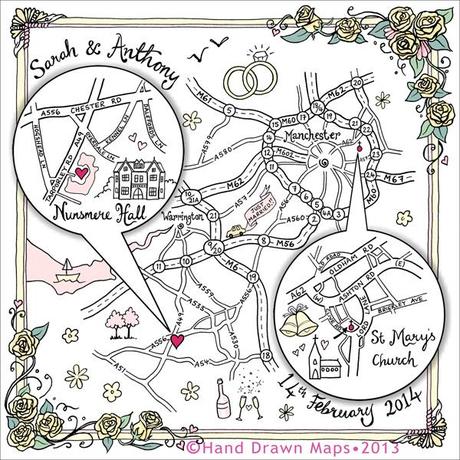 https://www.facebook.com/HandDrawnMaps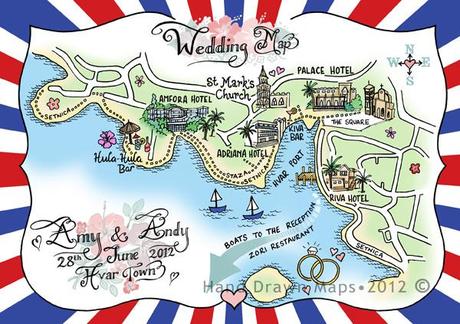 Please visit www.hand-drawnmaps.co.uk and get inspired – and if you order one of Lydia's maps, or choose her as your wedding invitation designer, do let her know you discovered Hand Drawn Maps on the English Wedding Blog!
Claire xxx