I got up for breakfast early again this morning. So early that breakfast hadn't started, but they did let me sit and brought an extra strong pot of coffee while I waited. There were no dramas this morning until it came time to leave. I'd counted everyone on the coach and was missing one person. Mrs 'neck'! I'd seen her at breakfast so I knew she hadn't died in the night, but I couldn't find her in any of the public areas and she wasn't answering the phone in her room. She eventually turned up, only 5 mins late, saying, 'I'm ever so sorry dear, there was someone I had to say goodbye to'! I didn't know what to say so I kept quiet! After the duty manager handing out a bottle of water to everyone and ruining my water sales, we got on our way.
Our destination today was the New Forest and our first stop was at Burley. It's a pretty little village but there must be something strange going on, judging by the amount of witchcraft and fairy shops and the fairy festival being advertised alongside the witches coven! We stayed long enough for a coffee and a good old nosey round. From there we drove out across the new forest firstly through Sway, then Brockenhurst and finishing in Lyndhurst for our lunch stop. Another nice little town but not enough to do.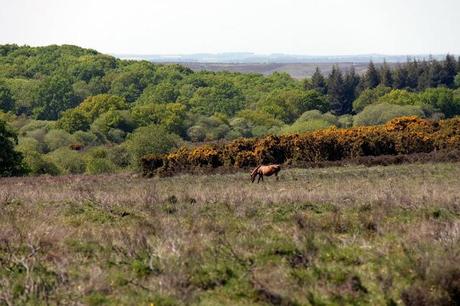 On our drive over to Lyndhurst, on the road across the open common land, I was approaching a narrow bridge on the road and just before the bridge were 4 ridden ponies looking like they were waiting to cross the road. I think it was an escorted ride from a riding school with a young girl who looked no older than about 14 leading the way. I stopped in the road to let them cross in front of me and get out of my way, the girl thanked me, stepped out onto the road and instead of crossing she continued along the road ahead of me. How stupid! Surely she wanted me out of the way as much as I wanted them out of the way. There had been a big open space on the opposite side of the road where they would have been much safer while I passed. Instead, I now had to try and creep past them, which isn't particularly easy with a 13 liter engine, one of the ponies spooked, ran sideways down the bank and the young lad fell off! He did bounce well though and got straight back in the saddle! I used to work with ponies myself so I am probably more tolerant than most when passing them on the road, but come on! Do a bit to help yourself!
We were in Lyndhurst for just over 2hrs. I stayed on the coach, had my biscuits I'd taken from the hotel room and rested my eyes for a while. I've been to Lyndhurst many times and it was far too busy today for me to want to bother with it.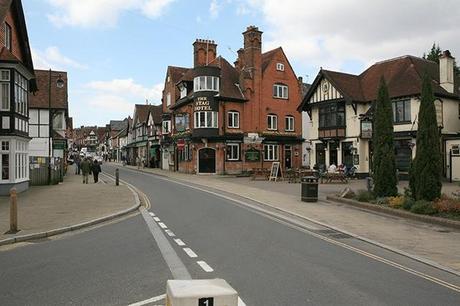 From there we headed home. We stopped at services where I was presented with a paper bag and a "thank you from your passengers". They had passed 'the hat' around which I never do so well from as if they all individually thank me when they get off. Obviously it had been organised by somebody who is used to traveling with a downmarket company where this is appreciated. Well you can keep your change, paper money only!! So we arrived back at base where a lot of passengers did 'thank' me personally after all enjoying their short break. I now can't wait to get to the pub and the start of my 10 days off work. Lazy times ahead! :-)