I had my first shock of the day whilst at breakfast this morning. I had gone to breakfast early to try to avoid sitting with anybody! The next person to come in was the little lady I had been chatting to not long after checking in to the hotel yesterday. She's traveling on her own and must be knocking on 80 if she's not there already. She had been telling me what a nice room she had with a four poster bed and how it was just a shame she didn't have a man to share it! So when she appeared in the dining room this morning with what looked very suspiciously like a love bite on her neck, I nearly fell off my chair! After I had composed myself I asked her if she'd had a restful night. Well that was definitely the wrong question to ask! She replied, 'oh no, not at all dear, but I'm feeling great!' And she had the look of a love struck teenager. Very quickly, I changed the subject! Surely, I must have got this completely wrong? I don't really want to find out!
So today we were heading for Portsmouth. I had a lady chatting to me yesterday who was concerned that she wouldn't cope with the length of day, but she didn't want to miss out by not going at all. I suggested hiring a mobility scooter and if she let me know quickly, I would do my best to sort it out. So 10mins before we were due to leave this morning she said to me, "I think I would like a scooter, can you arrange it?" Of course I can magic one out of thin air! No problem! Some people think I'm a miracle worker! After making a few phone calls, with no luck, we left on time for Portsmouth and my little lady had to use the local buses and her pins.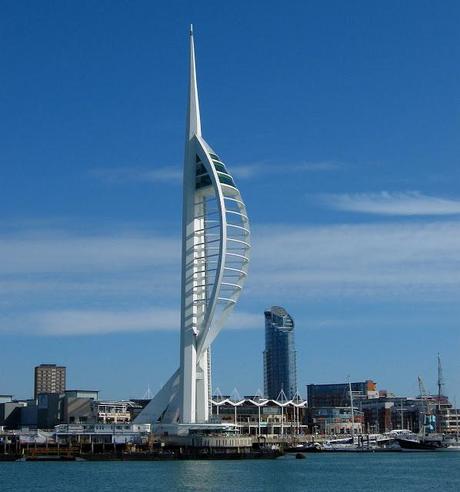 The majority of people headed for the historic docks, some got the bus to Southsea and a couple even got on the foot ferry to the Isle of White. I parked up and headed off with my camera, firstly toward Portsmouth cathedral.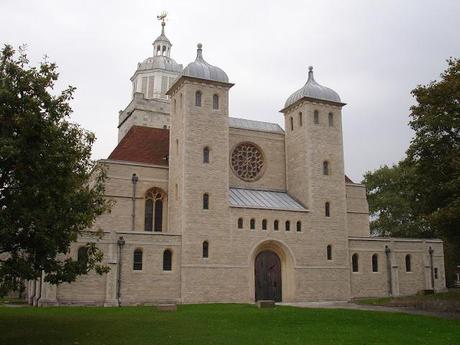 I've only been to Portsmouth on a day trip once before and it poured with rain so I didn't got out! The only other times I've been here is to and from the ferry terminals, so I was looking forward to having a day out somewhere new. I knew there was a lot to do here and people have always said what a nice place this is now, but I was still impressed! I walked down to the seafront. There was a lot of activity going on. Sailing, fishing, kids playing in the sea. I just sat people watching for a while and watched the Brittany ferry come in, dwarfing all the sailing boats she passed.
From there I walked on top of the wall around to the working port. There were some lovely little pubs by the waters edge and the really nice thing was, there was no horrible fishy smell that you usually get at working ports!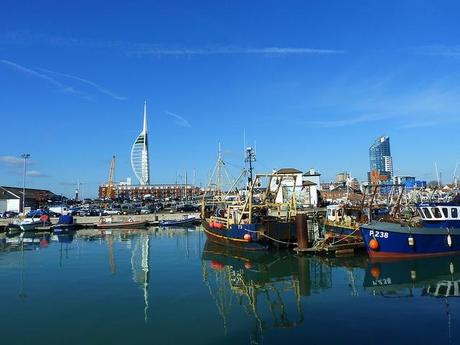 I liked it here. Not too many people about and lots of photo opportunities. I walked on further to the canal side  and then the spinnaker, which led me into gunwharf quay shopping center. Far too many people! Let me out! I walked straight through as quickly as my legs could walk and aimed for the historic dock area. My camera has been so busy today, I'm quite excited to see my shots on the computer screen when I get home. Sad, I know! (These photos have been taken with iPad). I walked through the dockyard where there were lots of signs saying 'heightened security against terrorism' and even armed guards. Is this another instance of things happening in the world with me in my bubble? Anyway, I didn't see any terrorists. So by now I was starting to feel weary. I'd been walking for about 4hrs, not had a drink and my legs weren't used to this! So after picking up a frappe I headed back to the coach, thinking I may just fit in a 20min kip after I'd eaten the biscuits I'd taken from the hotel room!
I'd like to come to Portsmouth with friends for a weekend. It really is a lovely place and a day is not enough time here, there is so much to do. 
I picked everyone up, they'd all had a great day, and we went back to the hotel. The evening meal was served a lot quicker this evening with just a couple of minor hiccups and the restaurant manager appreciated my thank you. 
So now I need to pack my case, ready to go home tomorrow. Goodnight x