I've never bought anything from H&M's homeware range before so I decided to have a look online and ended up picking three things which I thought were adorable – I felt I had to buy them.
The first thing I bought was this cake stand. Every now and then I get in a baking mood, so I thought it'd be nice to have something cute to display the things I make on. However, let's say I made a batch of cupcakes, I'd be able to fit maybe three – four at a squeeze – of those cupcakes on here. It's tiny! It was £4.99, and it did have the dimensions of the stand in the product description, but because pretty much everything at H&M is so cheap I thought nothing of it and assumed it would be a full sized stand… so I guess it's my own fault that I was disappointed, not H&M's. It's a gorgeous color though!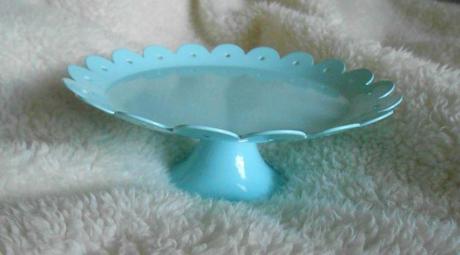 These next two things are so adorable! I was having a final browse before I checked out with my solitary purchase and spotted these. Who can say no to an owl in a tophat?! They were both £3.99, and there was several different animals with bows and monoglasses etc but the owl was my favorite. I was a bit more thorough with checking what I was spending my money on when buying these and checked the description. Ceramic, cute, decent size, dishwasher safe (I don't have a dishwasher but good to know), so I added them to my cart.
When they (finally) arrived, I unwrapped the plate first which is gorgeous. It's a good size and a decent quality. Then I unwrapped the mug, which is also a decent size and good quality. The only problem is that I was under the impression that all 'mugs' had HANDLES.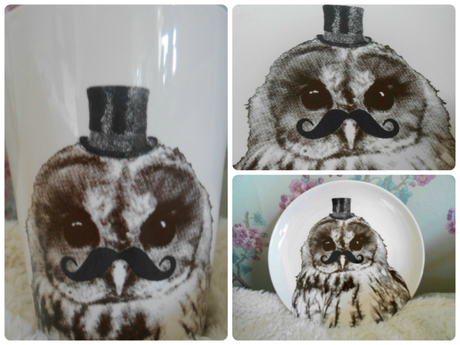 So whilst I was a bit disappointed that it doesn't have a handle so I can't really use it for hot drinks, I'm not sending it back. I'm sure I'll find a use for it! And the owl really is rather cute. I seem to be quite into owls at the moment – I even have a tattoo of an owl! Please excuse the finished picture, it was super scabby when that was taken.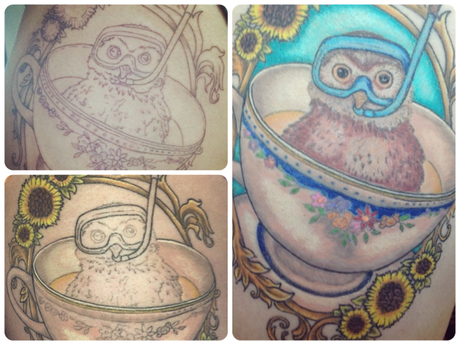 Before you go, let's just talk about postage for a minute. It's the norm now to have to pay around the £4 mark for delivery, and within usually about 3 days your order is delivered. So I checked out my items, paid my postage and waited. Four days after I placed my order, I get an email from H&M saying that my order has now been dispatched – WHY HAS IT TAKEN FOUR DAYS TO DISPATCH IT?! Eventually after just over a week of waiting my order arrived.
And I'm not saying it's just H&M either – I've noticed Very have been pretty slack with delivery lately, which is awful considering you pay over £4 for 'next day'!
If you liked this, why not check these out!