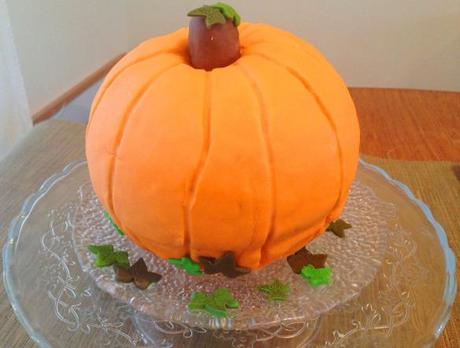 Last week my dad brought round some of the harvest from his allotment – in the form of 3 huge pumpkins, the largest of which weighed a whopping 5 stone!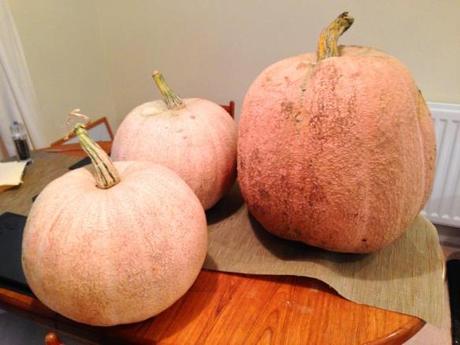 We went through one of the smaller ones last week, which Rob carved into a cat: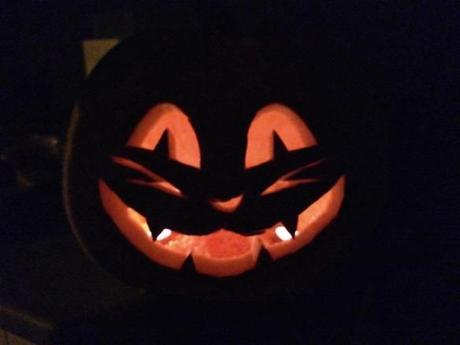 We wanted the monster pumpkin to display outside at Halloween. A whole evening of carving and scraping and everything-else pumpkin-y later, our fridge and freezer was full to the brim with a whopping 10 kilos / 1.5 stone of pumpkin flesh! And this is not even half of it…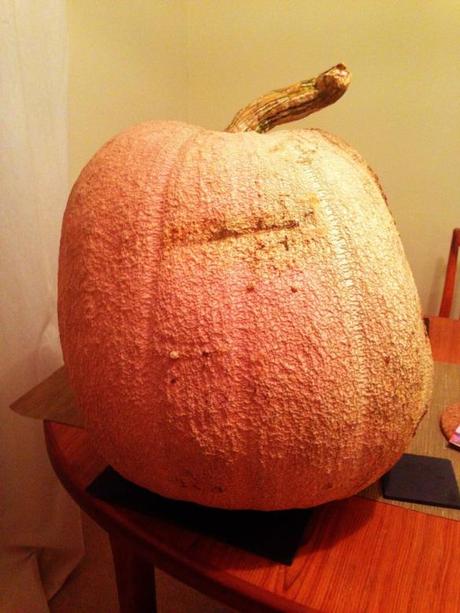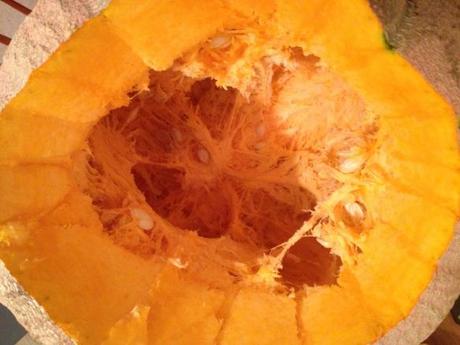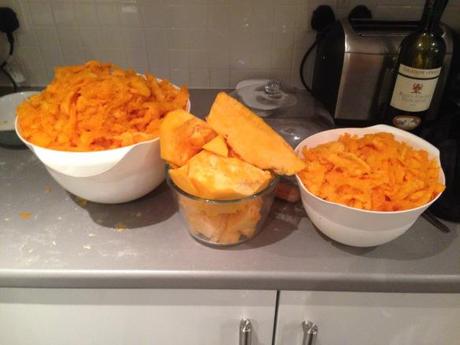 This week was also our Halloween Nottingham City Clandestine Cake Club, and given the volume of pumpkin in the kitchen there really was no choice on what to make!
The recipe is adapted from several sources, you can add more or less spice depending on your tastes. It's very moist on its own, or you can add a cream cheese frosting for an indulgent treat. Or dress up in its own costume as I did! There were a lot of recipes that called for delicate folding and sieving yada yada… I made it straight in one bowl, mixed carefully, no mess, no fuss, perfect cake

Ingredients
225g plain flour
175g light brown sugar
2 teaspoons of baking powder
1 1/2 teaspoons cinammon
3/4 teaspoon nutmeg
1/2 teaspoon ginger
pinch of salt
1 teaspoon of vanilla extract
2 eggs
120ml vegetable oil
200g pureed pumpkin (pop it in the blender or mash)
Method
- Mix all the dry ingredients together in a bowl
- Add the eggs, oil and pumpkin, and mix until just combine (it doesn't need to be smooth).
- Pour into a well-greased tin (8 inch square or similar, approx 2 liter capacity), and bake at 180 degrees for 45 – 60 minutes, until an inserted skewer comes out clean.
I'd planned ahead for this bake an invested in a medium hemisphere tin from Lakeland.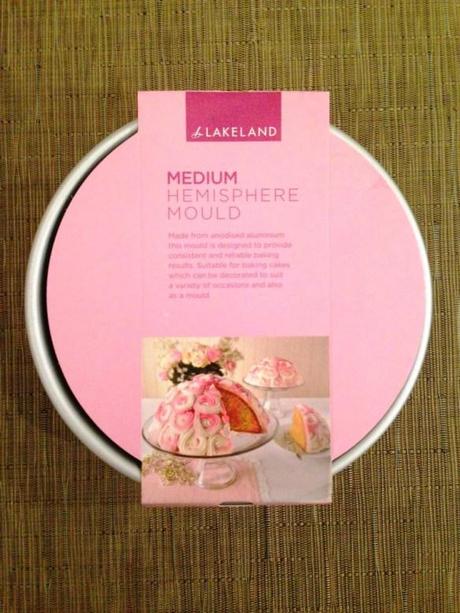 At £6.99 it was a good price for a sturdy new tin, and I'm already plotting more uses! They do recommend you buy a baking tin to hold it upright while you're baking, but I was sure there'd be something in the kitchen cupboard I could use. Lo and behold, my amazing number and letter pan came into use once again!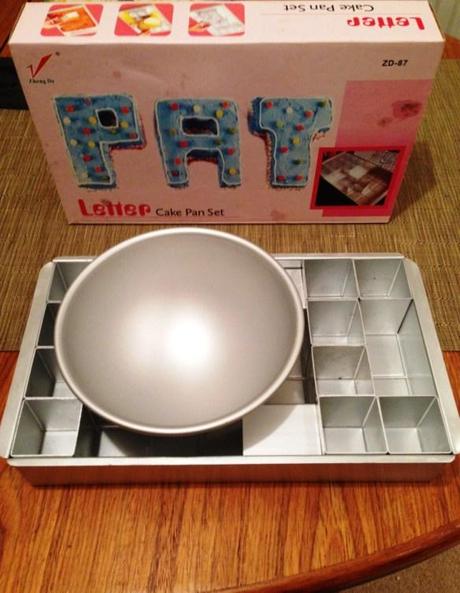 I made 2 batches of the above batter and baked 2 half-sphere cakes, trimming them once cool to give a slightly flatter base and top, and ensuring the middles fitted together well.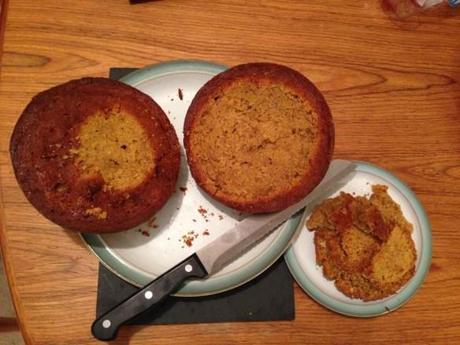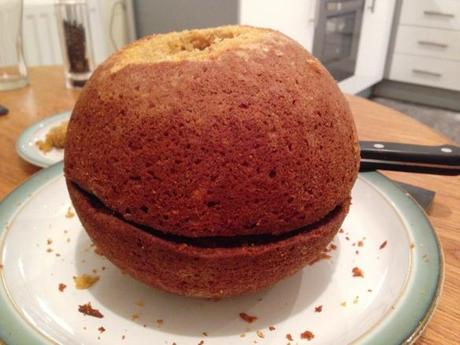 After a quick coat and fill of lemon buttercream, I covered the cakes in orange fondant. And you thought a normal round cake was difficult! There were a few lumps and bumps but thankfully this is a normal pumpkin characteristic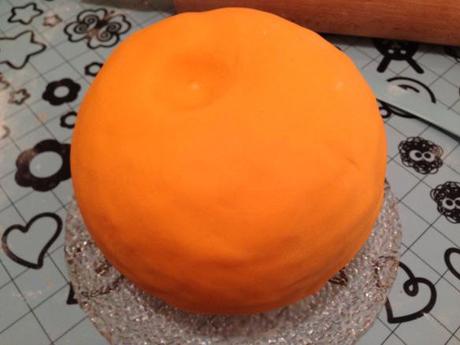 To create the ridged sections of the pumpkin, I simply pressed lines from the top to the bottom using the back of a thin paintbrush.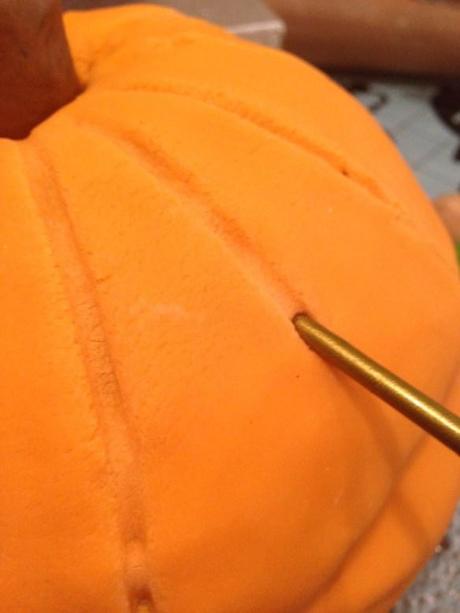 To finish, I added a brown stalk, and some assorted green leaves around the base (mostly to disguise my bad fondant covering!)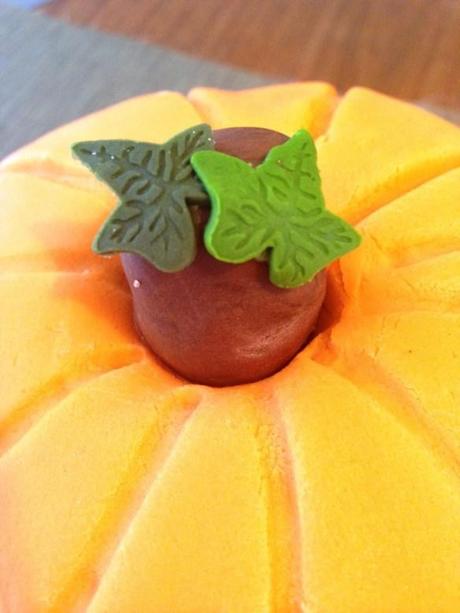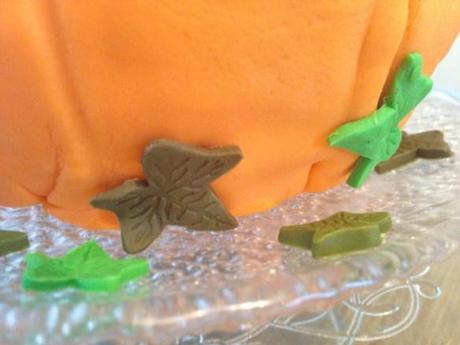 The completed cake, intentionally wonky and bumpy, of course!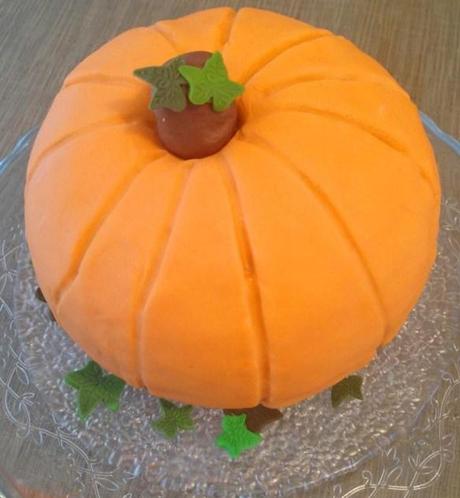 And of course the pumpkin was suitably carved to adorn our doorstep this evening – photo to follow later once it's lit!