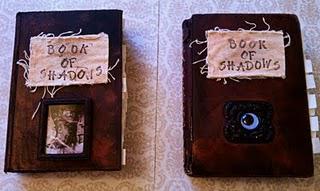 First Step:
Find an old distressed leather book
(when I opened the first page of the red book, 1944 was hand written in the top right corner)
.  I took an exacto knife to the leather to make it look like claw marks.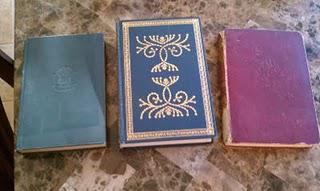 Step 2:
Use black spray paint to cover the majority of the leather
( I left some of the natural leather exposed to give it more dimension)
Step 3:
I applied acrylic paint in brick and terra cotta with a sponge making sure not to fully cover the black base coat
(I rubbed cinnamon into the book because I thought it might help with the antique look but it made more of a mess then anything)
.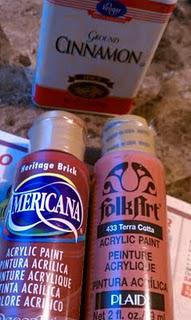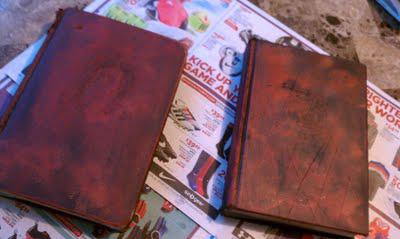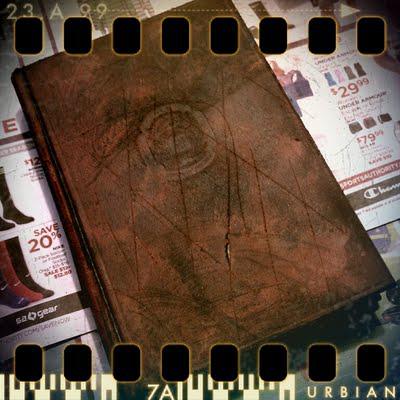 Step 4: 
I cut a piece of burlap or (heavy cloth) into a rectangular shape and rubbed cinnamon into various sections of the cloth.  Then let the cloth sit in a tea bath for a few minutes to give it a more aged look.
After the cloth dried, the edges frayed naturally which was a pleasant surprise!  
Use a stamp to spell out the title of your book.  
On the book on the left, I took a miniature picture frame found in the doll house aisle of Hobby Lobby and sprayed it black (sponged the same book colors over top the black frame).  Inside the frame I placed my sister's family vampire picture from last Halloween.
On the right book, I used the same foil embossed stickers (sprayed black then sponged the book colors on top) from the Dollar Store that I used on the last Halloween Spell Books.  Place a googly eye in the middle of the sticker.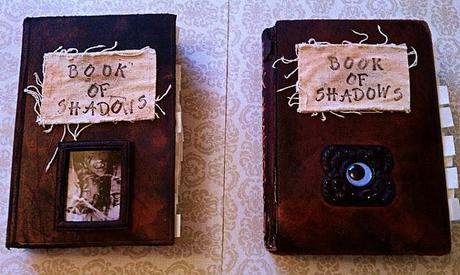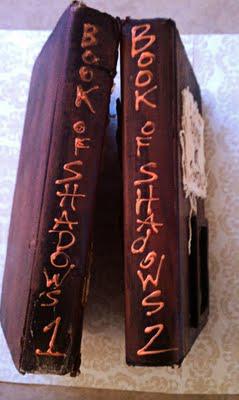 Orange Puffy Pant was used to draw the titles on the spine.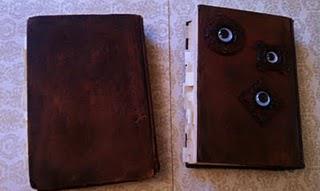 I used more foil embossed stickers and googly eyes on the back of one of the books.
Step 5
:  Open your
"Book of Shadows"
and let the scrap-booking begin.  Volume 1 and Volume 2 of my Book of Shadows represent my Sister's 1st and 2nd annual Halloween Party.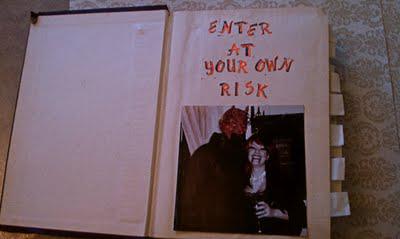 Each "scrap book page" consisted of first gluing 5-6 book pages together for stability.  I created page tabs with masking tape to easily turn the pages.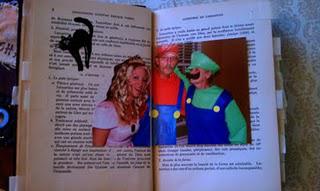 Place pictures (& stickers) on the pages and let them tell their story.