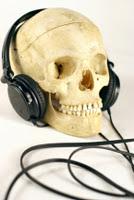 It wouldn't be a successful Halloween party without a fun Play list.  Last year I spent hours trying to find all things Halloween music from spooky and classic to not so predictable. 
The music was grouped into 2 categories:
Party Music
Haunted Sounds/Music (we created play lists for each room in the haunted house)
Witches Den (cackle and bubbling cauldron sounds)
Devil's Lair (screams and creepy sounds)
Graveyard (outside noises - owls, wolves, evil laughter)
Vampire Room (see below)
Song Title Artist
Castle Dracula Nox Arcana
Toccata And Fugue In D Minor, BWV 565 - Toccata Johann Sebastian Bach
Dark Shadows The TV Theme Players
Piano Sonata No. 2 In B-Flat Minor, Op. 35: III. Marche Funébre - Lento (Funeral March) Abbey Simon
Hopefully this will save you a bit of research time so you can get down to business (see party music below).
Song Title
Artist
All Hell's Breakin' Loose Kiss
Another Way To Die Jack White, Alicia Keys
Apocolypse Please MUSE
Assassin's Tango John Powell
Bad Influence Pink
Bad Moon Rising Creedence Clearwater Revival
Bad Things (Theme From "True Blood) Jace Everett
Bad To The Bone The Destroyers, George Thorogood
Beast of Burden The Rolling Stones
Black Magic Woman Fleetwood Mac
Black Night Muddy Waters
Crazy  (The Devil Wears Prada) Alanis Morisette
Crazy On You Heart
Crucify Tori Amos
Cry Little Sister  (Theme From The Lost Boys) Gerard McMann
Disturbia Rhianna
Do You Believe in Magic Aly & AJ
Dracula's Lament Jason Segel
Dragula Rob Zombie
Fever A Fine Frenzy
Freaks Come Out At Night Uncle Kracker
Funhouse Pink
Ghostbusters Ray Parker, Jr
Halloween Theme
How Soon Is Now The Smiths
I Will Survive Cake
Immortal Evanescence
Insane in the Brain Cyprus Hill
Jeepers Creepers Louis Armstrong
Just Like Heaven The Cure
Land Of Confusion Genesis
Li'l Red Riding Hood Sam The Sham
Magic Ladyhawke
Theme From 'Jaws'
Maneater Daryl Hall & John Oates
Maniac (BOF Flashdance) Michael Sembello
Misery Business Paramore
Monster Mash Bonzo Dog Band
Mysterious Ways U2
Night Moves Bob Seger
Nightmare on my street Will Smith
Paint It Black The Rolling Stones
People Are Strange Echo & The Bunnymen
Purple People Eater George Thorogood
Ramalama Roisin Murphy
Science_Fiction_Double_Feature The Rocky Horror Picture Show
She Wolf Shakira
Sin Wagon Dixie Chicks
Somebody's Watching Me Rockwell
Spirit In The Sky Norman Greenbaum
Stayin' Alive Bee Gees
Straight To Hell (Feat. Mick Jones) Lilly Allen
Superstition Stevie Wonder
Sweet_Transvestite The Rocky Horror Picture Show
Sympathy for the Devil The Rolling Stones
Tales From The Crypt Angelkill
The Addams Family Victor Mizzy
The Devil Went Down to Georgia The Charlie Daniels Band
The Knife Danny Elfman
The Munsters Jack Marshall
The Phantom Of The Opera Original Cast Recording
The Witch Doctor The Hit Crew
The_Time_Warp The Rocky Horror Picture Show
This Is Halloween Panic! At The Disco
This Is Halloween Marilyn Manson
Thriller (2003 Edit) Michael Jackson
Time Is On My Side The Rolling Stones
Toxic Britney Spears
Tubular Bells Mike Oldfield
Twilight Zone
Unsolved Mysteries Gary Remal Malkin
Virtual Insanity Jamiroquai
Werewolves_Of_London Warren Zevon
Witchcraft Frank Sinatra