Happy Thanksgiving to all my Canadian friends and family.  "For each new morning with its light, For rest and shelter of the night, For health and food, For love and friends, For everything Thy goodness sends." Ralph Waldo Emerson
Only 2 weeks left until Halloween so here are a few more last minute ideas you can use in your Halloween haunt.
Build your own Coffin:
 I built this one using a half sheet of rigid insulation. I didn't really have any measurements to work from. I just took a piece of paper, scaled it to the size of insulation that I had, drew out a quick plan and cut it out. I used duct tape to stick everything together.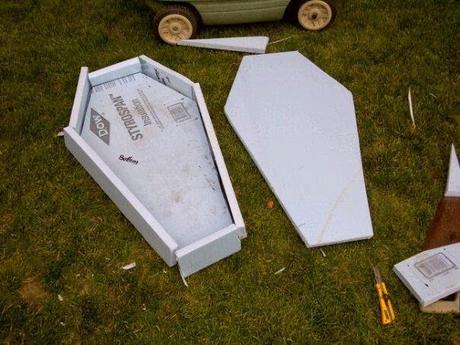 Step 2: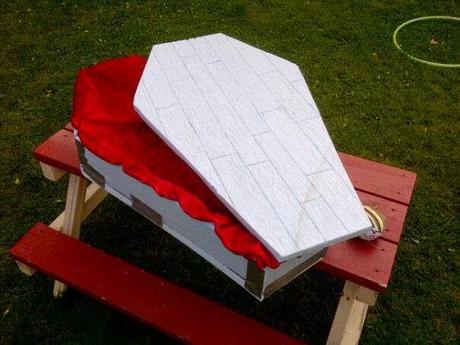 I had some leftover red velour fabric from a Freddy Mercury costume from a couple years ago so I cut it to size and used some carpet tape to attach it to the coffin. Carpet tape is a very strong double sided tape that is weather resistant, permanent and won't melt the foam. Then I used a hot solder pen to melt the wood grain patterns into the styrofoam.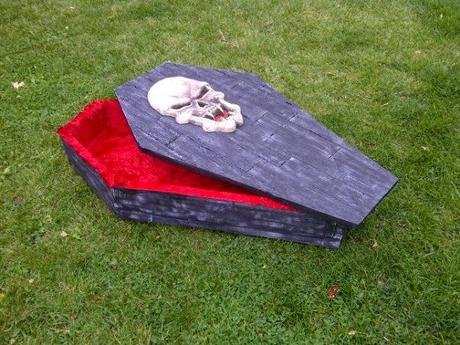 I got out the paint in a black, umber, greys and white and just started painting thin washes of color, trying to get the look of aged wood. The skull on top of the coffin is a dollar store foam piece that I thought was perfect for this piece.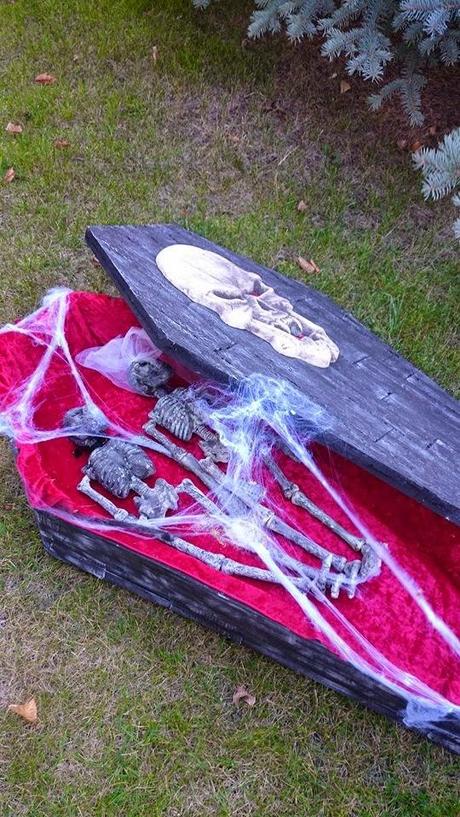 I added a few smaller cheap skeletons that I treated with a Kleenex rotting flesh technique. Then I added a few details like a bow tie and cufflinks for the groom and a veil with a beaded tiara for the bride. And we have "till death do us part - coffin project"