If you're not so great with face paints and don't fancy wearing a hot sweaty mask all night why not try face stickers/transfers/tattoos? I tried them a while ago and they're pretty easy to apply and don't take long at all! The great thing about transfers is that there's loads of options, and you can find something to suit your outfit and your budget. You don't even need an outfit, just throw on something black and some awesome transfers!
This post is not sponsored by any of the companies mentioned. I do not receive anything if you click a link or buy anything that I have featured below.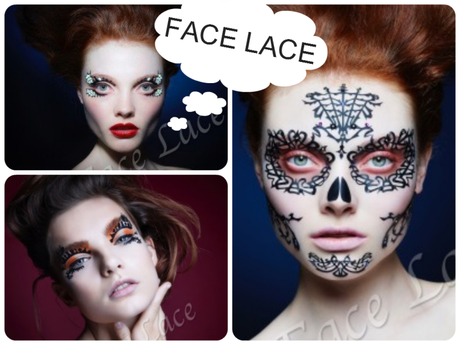 I'd never heard of Face Lace before I started searching for face tattoos – I can think of so many times when these would have been perfect! They do a bunch of different designs with prices starting from £3.95 and going all the way up to £39.95. It all depends on how detailed a design you want!
The design in the top left box even glows in the dark! Tomb-illume – £8.50
The design in the bottom left box has a witch on a broomstick that goes under your lower lashes and a graveyard kind of scene for the top! The orange obviously isn't part of the stencil – imagine the different effects you could make with different eyeshadows under all of these! Broomchicks – £8.50
I love the large design! It's meant to be like a day of the dead sugar skull and you apply all the pieces seperately, so you can be as full on as you want! Espina – £29.95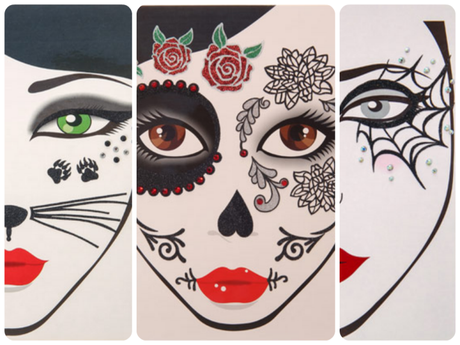 If you're an instant gratification kind of person and don't want to wait for the face lace designs to be delievered, Claire's Accessories have a few cute tattoos! I'm sure they won't be as effective as face lace, but if it's dark and only for one night I guess it doesn't matter too much!
Cat face – £5Day of the dead – £5
Crystal spider web – £5
Hopefully this helped some of you if you're still unsure what you want to do for Halloween! I'd be pretty quick if you want to grab yourself some of these – I can't imagine they'll be available for much longer!
Have you chosen your costume yet? Let me know!
About these ads