With Halloween right around the corner, now is the time to get all your spooky decorations ready! If you are planning a Halloween party in your own home, don't forget to decorate the bathroom. This is a great chance to scare your guests and make the party a lot more fun and interesting! The bathroom is usually the smallest room in the home so it is much easier to create an overwhelmingly claustrophobic and spooky design. It is easy to decorate entire walls and tap into people's fears of space and privacy. Hollywood has already done a good job of making us paranoid to see what's behind the curtain, thanks to the countless number of horror films with scary bathroom scenes. Thanks to Halloweenforum.com, there are plenty of great designs created by various users to draw inspiration from.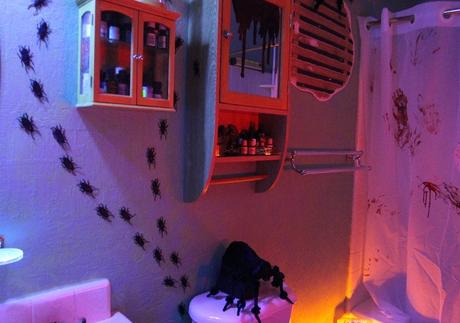 Creepy Crawler Catastrophe
User Chewbacca does a great job of demonstrating how to use fake insects, spiders, and critters to turn your bathroom into a creepy, crawly boudoir of bugs!. It would be hard to use this bathroom without wanting to constantly look over your shoulder. There is no space that feels safe from swarms of cockroaches or hordes of rats bent on world domination. Just when you muster enough courage to sit on the toilet, you'll notice a giant spider hanging above your head waiting to turn you into a tasty meal! The use of lighting does a lot to add to the mood as well. Blacklights create a sense of mystery and help provide light while still feeling dark and spooky. You probably already have candles in your bathroom, and they are a very effective way to create moody lighting. Candles bounce light and cast shadows that tap into your fears and imagination.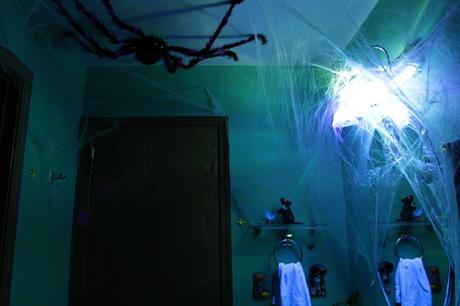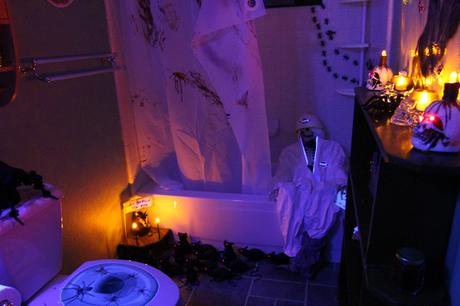 Make it Fun & Festive
If you just want to have fun, be creative, and show your Halloween spirit, user lilibat's bathroom decorations won't have your guests running out the door screaming. It is a much more festive design that shows off her love for the holiday. She incorporates classic Halloween themes, such as jack-o-lanterns, witches, and bats. She also uses lighting to enhance the mood and to highlight the spider web above the toilet. The colorful hand towels with images of the Grim Reaper and a haunted house are a very nice touch. The curtains, toilet cover, and floor mats compliment each other well and help round out the design.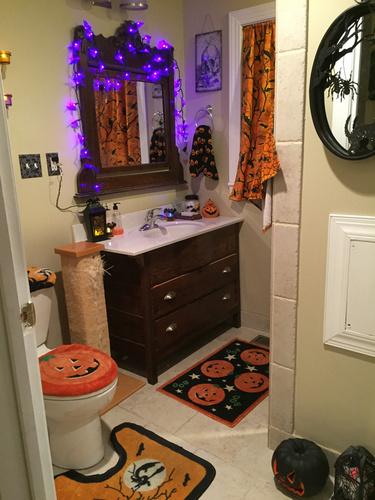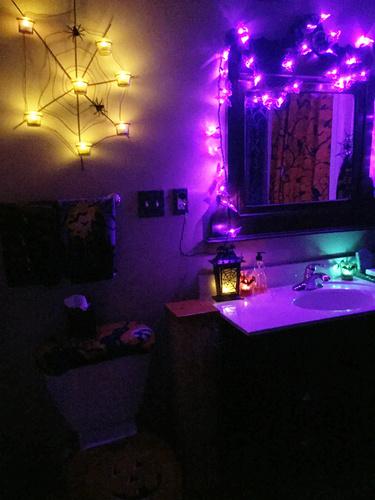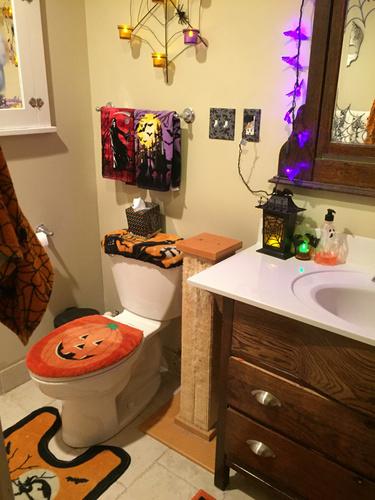 Let a Theme Guide Your Inspiration
For lovers of film and pop culture, choosing a theme is a great way to celebrate your favorite horror films and characters. This is an opportunity to recreate those classic scenes from film and television. Choosing a name for your theme is a great way to get started. User Paint it Black came up with the theme "Vampire Lounge." Sticking to the theme helped lay out and inform the ideas for his design. Try to come up with creative ways to use props to make them stand out and be even creepier. User kloey74 made a spider's nest theme, which uses giant black spiders against the white and yellow backdrop. This makes the spiders stand out even more and appear more out of place. User StacyN used a Haunted Mansion theme using an ornate mirror flanked by candles, old books, and creepy bust. The creepy pictures on the walls are also a nice touch. A unique idea is to mash up different themes to create quirky and memorable designs.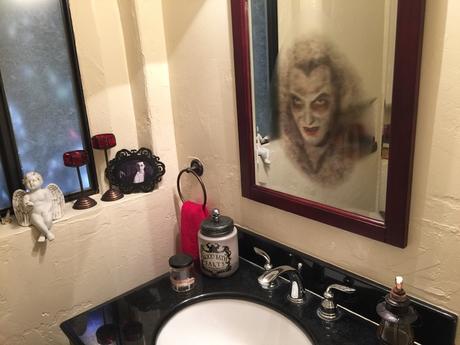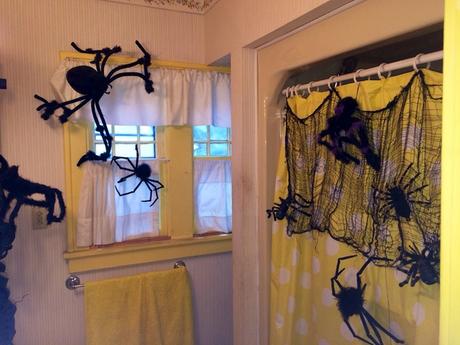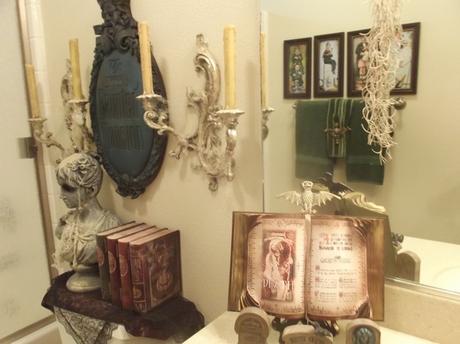 Use Those DIY Skills
Seasonal decorations can get expensive during peak demand so it is worth the effort to make your own. This is another opportunity to show off those creative skills and make something unique. User Marigolddesigns does a lot by using newspaper, blacklight paints, and plastic eyeballs stuck to the walls. She creates an eclectic space that's a cross between a stalker's basement, an evil laboratory, a haunted circus, and a Tim Burton movie! It all comes together very well to create a stimulating and creepy design. User Kittyvibe created a witch's apothecary station filled with all types of tiny potion bottles and magic ingredients, which can be made yourself using guides on Pinterest. The lighting uses simple christmas lights to create an aura around the station, making it appear more magical. User Lighthearted Halloween does an excellent job of making a minimalist design that is simple but effective. The curtain was made using iron-on bats and a plain white shower curtain. The nicest piece is the simple tissue box made from glued together pieces of wood. It is functional and resembles a coffin perfectly. The Bates Motel hand towels and soap dispenser highlight the goofy and whimsical nature of the creations.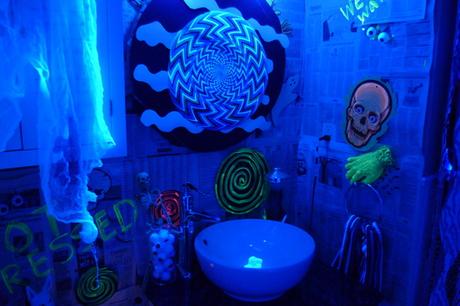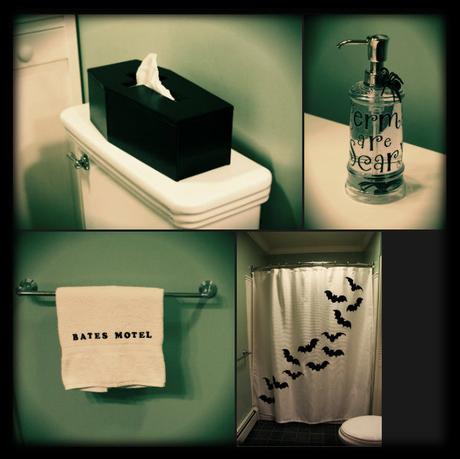 Don't forget to have fun while decorating for Halloween! Try to come up with designs that reflect your personality and what Halloween means to you. For some it is more about the childhood memories of dressing up, going trick-or-treating, and watching cartoon specials for kids on TV. For others, Halloween is more about confronting our deepest fears and making the impossible a reality. Whatever your preference is, try and make the most of your creative skills to come up with original ideas. Don't be afraid to break the mold to do something no one has ever done before.
Images Courtesy of:
Paint it Black, Kittyvibe, Marigolddesigns, Lighthearted Halloween, StacyN, kloey74, Chewbacca, and lilibat on Halloweenforum.com.
About the Author
Cheryl Khan is a regular contributor to the Trade Winds Imports Blog. She is passionate about DIY and interior design. Follow her on Twitter for more decorating ideas.