Continuing with my blog catch up, I wanted to share some crafty bits and bobs I put together for Halloween. I know it was a week ago now but  I really enjoyed getting dressed up and getting my make on. We had a Day of the Dead themed Halloween at work so I whipped up some suitable decorations which included some cardboard skulls and a length of creepy bunting.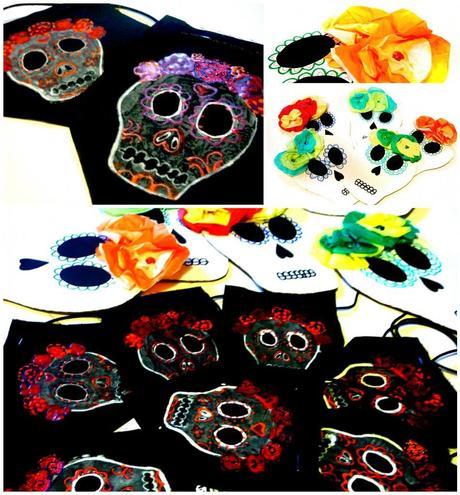 I also wanted to create an outfit that would be suitable for wearing once Halloween was over, so decided to decorate a plain jersey dress I picked up form Asda. I created a skull stamp and had lots of fun with some screen printing ink. I had intended to decorate a number of the skulls in a

Día de Muertos style but, as I was running out of time, I only managed to bling up one of them with a flower crown. I quite like the little splash of color it added. With the addition of a floral headband and some colourful face-paints the dress made a pretty good Day of the Dead costume, even if I do say so myself.