The flickering of Candle Light, the screams echo through the Kitchen which now has turned magically into a Dungeon. The dark forces of Count Vincenzo and Mistress Witch Anna, along with their henchmen and woman Hubbling and Bubbling with a touch of toil and troubling are turning out Halloween cakes to change the world from light to cakeiness....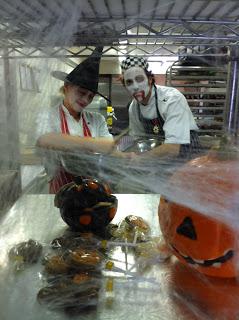 Mistress Witch Anna and Count Vincenzo
I enter this domain of mysterious arts, hoping to catch a glimpse of the flirt with the dark forces, perhaps even to sample a bikkie or two. A voice booms out; and I scurry away for fear of disturbing the Count in his ministrations.
Chocolate Pumpkins; Evil cake pops; Witches biscuits; Cup Cakes of the Dammed and much much more have been and will continue to flow from this bastion of evil. To take part and have your very own Dungeon click 
www.familycakes.co.uk/cakes.asp?categoryID=26 
Or even should you wish a personalised piece from the Count and Mistress Witch call us and we shall conjure the spell! But be quick our Count and Witch may only last a short while.....
 0207619 7793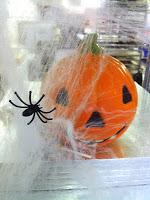 In the meantime anyone for blood juice!