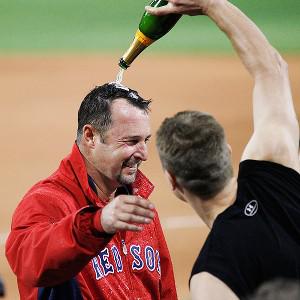 The long national nightmare is finally over.
Tim Wakefield notched his 200th win at Fenway on Tuesday night. It wasn't the best win of his career, but the Sox came to aid when he needed runs, and they blasted Toronto, 18-5.
Wake allowed five runs in the first three innings, and I thought this wasn't going to be the night. But he held the Jays down over the middle three innings, and the Sox exploded for 14 unanswered runs to give Wake his milestone win.
Dustin Pedroia busted out big time, hitting two homers and two doubles with five RBI, and Jacoby Ellsbury also had four hits and was just a triple short of the cycle.
It was a huge win for the Sox, as Tampa Bay lost in Baltimore, so they extend their Wild Card lead to 4 games.
But the story of the night was Wakefield, who finally got a monkey the size of King Kong off his back. He's still six wins behind the all-time Sox leaders at 192 (for the club lead): Cy Young and The Texas Con Man. But this is one to savor.
Congratulations to one of the classiest guys ever to wear a Red Sox uniform.