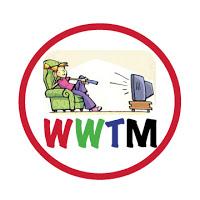 THE ANSWER TO WEDNESDAY'S SUPER EASY TRIVIA QUESTION: Julie Chen, Les Moonves's better half is the host of Big Brother. 
FIRST FIVES: Elke Raskob, Ed Ziskind, Bill McLaughlin, James Gabriele & Crystal Kyler
HONORABLE MENTION: Larry Price

THE NUMBERS 
Tuesdays Broadcast Top 5
America's Got Talent-NBC 1.9/7.9
Celebrity Wife Swap-ABC 1.3/3.7
The Night Shift-NBC 1.2/6.0
NCIS-CBS 1.1/8.7
NCIS LA-CBS 1.0/6.8
Tuesday's Cable Top 5
Deadliest Catch-Discovery 1.2/3.1
Pretty Little Liars-ABC Family 1.0/2.2
Rizzoli & Isles-TNT 1.0/5.5
Haves and the Have Nots-OWN 1.0/2.9
The Big Bang Theory-TBS .9/2.6
Tuesday's Twitter Top 5 Primetime Ratings  Pretty Little Liars-ABC Family 256,000 Tweets
Bad Girls Club-Oxygen 93,000 Tweets
At Midnight-Comedy Central 35,000 Tweets
Deadliest Catch-Discovery 8,000 Tweets
Off the Bat MLB Fan Cave-MTV 2 7,000 Tweets
THE SHOWS 
Big Brother
You feel it right? Julie, her Chenbot movements, the big round table, the houseguests, the house...must mean Summer is really here and all is right in the world again. Julie promised a million twists and game changers and of course we knew about most of them already, but now we know 1/2 of the players involved in our Summer insanity. Hard at this point to pick one or two or a team or an alliance favorite, but if I counted right there's already quite a few alliances in place, right? The Crazy 8's, The Cuatro (which means 4 Nicole) and the Double D's for Donny and Devin. There are already a few showmance possibilities and from what I can tell a love triangle in the making between Amber, Devin and Joey. There's already an annoying nickname with Pow Pow. There's an effeminate version of Spencer from BB 15 and some pretty amazing bodies, I mean how many 6 pack abs guys are in the house already? Frankie could get on my nerves, although, I did appreciate the My Little Pony reference.  Was it my imagination or was everyone given Crest White Strips before entering the house? So many perfect pearly white teeth. Maybe they were all on Survivor Island and got their teeth done there.  All I know is. I'm happy, I'm feeling good and NOW I'm ready for the Summer. So excited for tonight's second episode and the next 8 players to enter the house. Can't wait for more fun alliance names. Oh and don't forget...we have TeamAmerica too.  Isn't life great? 
THE OTHER STUFF
-Huge news in the Aereo vs. Broadcast TV Owners. The supreme court finally ruled yesterday and the ruling was correct in my opinion. Aereo transmits broadcast TV channels over the Internet to its subscribers which IS JUST LIKE cable television and therefore, Aereo would need to pay licensing fees to the broadcasters. Bummer for cord-cutters I guess, but it's the right ruling. Who knows what happens now though.  
-Big day over at ABC News.  Diane Sawyer is stepping down as World News Tonight Anchor and taking on more of Big Issues/Big Interviews role. David Muir's going to take her place as Anchor and Managing Editor starting on 9/2. More interesting in my opinion is the promotion of George Stephanopoulos to Chief Anchor of ABC News. he'll handle special reports and breaking news. I'm thinking Ally Wentworth's not going to get much quality sleep once this all starts. She probably didn't get much before though anyway. 
-Jillian Michaels is leaving The Biggest Loser...AGAIN...anyone care? So over her. 
-Sad note for Survivor fans, Caleb from last season was killed in a train accident. He seemed like a good guy, of course he was engaged to Colton one of the most hated players of all time, but either way, sad news. 
Thursday's EASY Trivia Question
: Who is Julie Chen's husband?
WWTM-Kristy
Like me on Facebook at Watching Way Too Much
Follow me on Twitter at watchingwaytoomuch@tvnme
http://watchingwaytoomuch.com
[email protected]