Since I started Medifast on the 22nd of February I have lost 8 lbs. This is a miracle for me, especially since having my son in 2009 I have gone up and down and recently just stayed up. So I am THRILLED!
You can see how my first week went by watching my vlog. There I go into more detail about how I felt and why I'm doing it. And according to Debbi from She Accesorizes Well, Medifast in the 1980's was all shakes. But I can assure you that is no more! You can eat!
This past week and a half was a lot better. I'm really getting the hang of the meals and I can handle going out to eat. I still had some missteps along the way, it's only natural I suppose.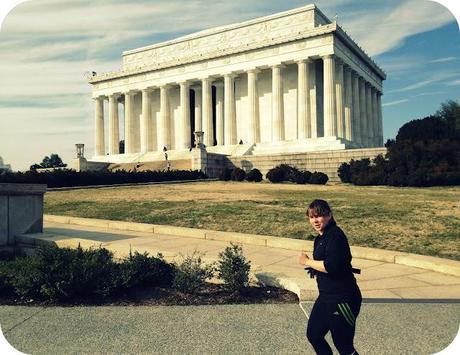 Running by the Lincoln Memorial
On the 17th of March in just over a week the Mr. and I are running the Rock n' Roll Half Marathon here in Washington, DC.
In order to power through my long runs I need more calories. And clearly Medifast is a low calorie diet and I needed energy. After speaking with my nutritionist, she suggested I do the weight maintenance diet which has more calories until after the 17th. Sounds simple right? WRONG. 
It required me to get into a new routine and takes at least two weeks and get into that mind set. So against their recommendation I have continued my current Medifast plan, and because we have been so busy I haven't been able to run much during the week anyway. I know it defeats the purpose of the fat burning process but I have too much going on to try to figure that out again. 
Today was our last long run before the race. I had a healthy meat and pasta meal last night and a Medifast shake and bagel with peanut butter this morning. It was a tough 10 miles only because I hadn't run during the week, but I made it!
Anyway,  I'm definitely happy about my success so far and I plan to keep going. I haven't been under 150 lbs in over 10 years (before my son was born I was always right at 150 lbs) so I can't wait to see when the scale reads below that. 
Some of my favourite Medifast meals are:
Eggs: I wasn't too keen on eating eggs from a pouch and adding water but they are yummy! Oatmeal Raisin Bars: Delicious in the afternoon with a cup of coffee Chocolate Mint Soft Serve:  I didn't make this for a while because it didn't look appetizing, but its delish! Chicken Soup: When prepared properly and not in a rush, it tastes fantastic. First time I had it, it tasted like wet paper. Ackkkk!
What I miss:
VINO! Seriously, I miss my Friday and weekend wine. But I did have some last week, but nothing more than half a glass. 
Accomplishments:
8 lbs weight loss (started at 161 lbs now at 153 lbs) Can fit into my colored skinny jeans Less cellulite on back of legs Less bloated Generally just feel lighter


Now if you have 10 lbs or 50 lbs to lose and you want to try it out, Medifast have a fantastic customer saving program and you can use my coupon code: 

BUSYMAMA56

, and sign up for Medifast Advantage. Also when you order $250+, you'll receive 56 free Medifast Meals and free shipping! Medifast Advantage has lots of advantages including free customizable meals and a free BlenderBottle® with minimum purchase.


Here are the details:


For your first order of $250+, use my code, and enroll in Medifast Advantage to receive 28 free meals. 




Do the same on your next order and you'll receive ANOTHER 28 free meals! This offer is only valid if you enroll in Medifast Advantage, and it's limited to one per customer. It's not valid with prior purchases, any other promotions or discounts, or for Medifast Ready-to-Drink Shakes. Sorry!




And if you have any questions, leave me a comment and if I can't answer it I'll make sure to get someone from the Medifast team to help you out. 




Have a great week everyone and stay healthy!