I'm back with yet another emtpies post and this time I'm here with the used up haircare products that I promised in my last empties. I'm one of these people who jumps from shampoo to shampoo and sometimes with conditioner too, so it takes me a while to finish haircare as I'm left with so many half empty bottles on the go at the same time. I'm on a bit of mission to finish these bottles so I'm happy to have some empties to report back on!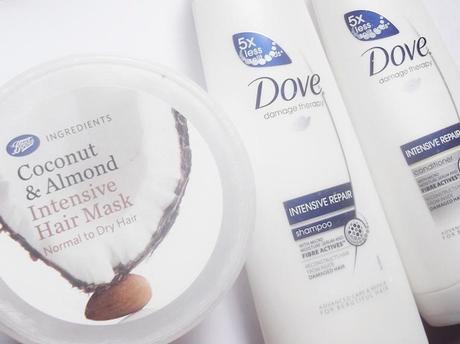 Boots Ingredients Coconut & Almond Intensive Hair Mask: This hair mask has become my conditioner of choice as it leaves my hair feeling so soft and smooth and is a must have in my haircare routine as it smells so nice and never fails to refresh my dry ends. It is absolute bargain at just £1.99 for a huge 350ml tub and you only need a little bit of product each time so it really does last a long time! I have already repurchased a tub and it was my hair savior on my recent holiday in Turkey.
Dove Intensive Repair Shampoo and Conditioner: I bought this shampoo and conditioner a few months ago after hearing so many rave reviews about Dove's new haircare range but I have to say I wasn't blown away with the results. I thought that both products were ok but nothing special in terms of repairing my damaged hair and leaving it looking healthy as many other standard shampoos have given the same results. For that reason I can't see myself ever repurchasing these two and will stick to the Boots Coconut & Almond shampoo which has been working great with the hair mask mentioned above.