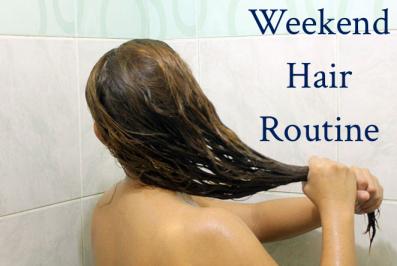 No matter what the season is, I think a consistent hair care routine is a must for everyone!
I really dislike having oily hair, especially when I go out, so I always do my weekly hair routine during the weekends.
My weekend routine…
Friday Night + Saturday Routine
On Friday nights, I like to thoroughly apply a deep, penetrating hair mask all throughout my hair, making sure to apply a generous amount on my scalp and ends of my hair, where it tends to get the driest. I keep this oil hair mask on overnight and all of Saturday. The longer you keep this hair mask on, the better!
Deep, Penetrating Oil Hair Mask:
1 tbsp castor oil

1 tsp olive oil

1 tsp coconut oil 
Mix all of these oils in a bowl and then apply them generously onto your hair. You may need to double the ingredients if your hair is longer.
Sunday Routine
On sundays, before washing off the oil hair mask, I like to add a honey-yolk hair mask on my hair to supply my hair with extra nutrients to give it more strength.
Honey-Yolk Hair Mask:
In a bowl, mix the ingredients well and apply it throughout your hair. Be sure to apply a generous amount on your scalp to help strengthen the roots. Leave on for about 30 minutes and wash off both the hair masks (Deep, Penetrating Oil Mask & Honey-Yolk Hair Mask) with shampoo and conditioner. Be sure to wash the mask off with cool water to avoid cooking the egg yolks in your hair!
Results
Hair growth
Strength & shininess
Smooth & silkiness
Less breakage & brittleness
Very little frizz
Less hair loss
Less dry scalp & little dandruff
Less split ends
I hope you guys give it a try! You'll definitely start noticing a huge difference in a month!