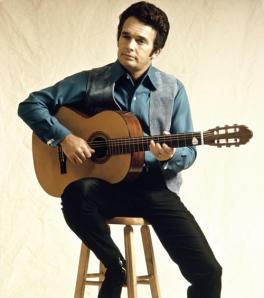 They say imitation is the sincerest form of flattery. Most great musicians develop their style by first imitating their musical heroes. This is especially true in country music. Ray Price was little more than a Hank Williams sound-alike until he eventually developed his own unique and influential sound. Ernest Tubb tried to sing like Jimmie Rodgers but a tonsillectomy caused him to end up sounding like, well, Ernest Tubb. Lefty Frizzel also tried to sound like Jimmie Rodgers, but his sweet, sliding way of singing resulted in yet another distinctive voice. Merle Haggard, who idolized Lefty's singing, tried to emulate his style and ended up creating what is arguably the single most influential voice in country music.
One of our greatest feats as sophisticated beings is our ability to laugh at ourselves, in spite of ourselves. Merle Haggard's life is the stuff of great fiction: born in a boxcar in Oildale, California to Okie migrant workers; a troubled childhood laboring in the California cotton fields and hopping freight trains; his incarceration in San Quentin State Prison where he discovered music as a means of escape, both figuratively and literally; his eventual pardon by then-governor Ronald Regan, allowing him the freedom to tour unrestricted and build the career in music which would save his life. His songs are weighty, earnest, even Steinbeckian in their examination of hard lives and solitary men. But behind the melancholy Haggard has always had a bright and prevalent sense of humor. The man who wrote "Mama's Hungry Eyes," "If We Make it Through December," and "Silver Wings," also had a knack for spot-on and hilarious impressions of his country music super star contemporaries.
Haggard not only causes his voice to sound eerily like the subjects of his impersonations, he can manipulate his face and body to reflect their mannerisms and overall physical presence in uncanny ways.
Here's a clip of Merle Haggard on the Glen Campbell Goodtime Hour having some fun with Marty Robbins, Hank Snow, Buck Owens and Johnny Cash. Make sure to stick around for the special guests at the end of the clip.
And here he is with the actual Marty Robbins. The set up takes a few minutes but is well worth it just to see Robbins' reaction when Merle hits Marty's trademark high falsetto.
And finally, an excerpt from Haggard's 1970 album The Fightin' Side of Me, recorded live in Philadelphia during a time when this medley of impersonations was a standard part of his live show.