Hello and welcome to Chapter Three of Gyaros: The Mice Eat Iron! If you missed out on Chapter One or Two you can find them by CLICKING HERE. The Mice Eat Iron is the first book in the Gyaros trilogy which is being co written by myself and my brother Alex Healy. I will be posting the first five chapters of the book here on my blog each week until the book is out! We hope you continue to enjoy the story and look forward to the release of the full book late in March 2013. Please note that small changes may still be made to the final book before publishing. All comments and feedback are very welcome 

WARNING: This book is adult fiction and contains violence, course language, adult themes and horror elements. If you find any of those offensive or disturbing you might want to avoid reading this post. Gyaros is meant to be thrilling and fun escapism, but don't say I didn't warn you about the adult content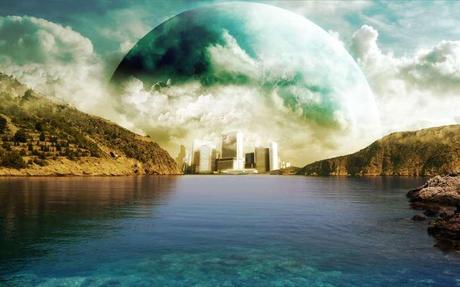 Not official Gyaros artwork. Any artists interested in helping with the book cover?

~~~~~~~~~~~~~~~~~~~~
Chapter 3
Bang, bang, bang! Miles sat up suddenly, startled by the loud noise, he squinted and lifted his left hand to his eyes, shielding them from the bright artificial morning light streaming through the window. Bang, bang, bang! Miles jumped again and quickly turned his head to the right to face the door of his room, where the sound was coming from.
"Who is it?" Miles shouted weakly, pricking his ears as he waited for the reply.
"*beep*, You've got a date with The Earning & Learning Centre *beep*," said the unmistakeably distorted, and somewhat muffled voice from the other side of the door. Miles had completely forgotten that he was required to attend a meeting with a Department of Productivity Facilitator today in order to attain placement at his new place of employment.
"*beep*, Rise and shine Mr Stanton *beep*," the voice continued emotionlessly, "*beep*, we leave in eight minutes *beep*."
"Ok, just give me a minute," replied Miles rubbing his eyes furiously in an attempt to adjust to being awake. He hopped out of bed, but stopped and winced when his injuries from yesterday once again reminded him of the events of the past 24 hours. 'Everything is fine Miles,' he told himself, 'let's just play by the rules, do whatever they say and we'll be back where we belong in no time. Even Hellen is going to see sense when we get a chance to really talk things through. This is a setback but it's nothing that can't be overcome." Miles had, by this time dressed himself in simple black trousers, a white short sleeved shirt and tie that he found in the closet. He then rushed to the small bar fridge which he was relieved to find was fully stocked with food. As fast as he could, Miles prepared a simple ham sandwich, wrapped it using part of the paper bag that the bread came in, and plucked a packet of potato chips from the large glass bowl that sat atop the fridge, and contained an assortment of savoury snacks.
He threw the supplies into the empty suitcase and grabbed a banana from the bowl of fruit that was on the single square table in the room by the window. Miles turned to leave when something caught his eye. A small card with some printed writing was sitting against the fruit bowl, he picked it up and read it.
"Miles. I did what I could to make things comfortable for you as you start life in the Yellow Districts. Stay positive, work hard, the Green Districts await your return. Good luck. Candice."
Miles smiled to himself, all was not lost, all he had to do was stay positive and work hard and everything would sort itself out. Or so he thought. Overcome with a renewed sense of determination he met the two Enforcers at the door of his room, who escorted him down to their vehicle. Exiting the building Miles used his briefcase as a makeshift umbrella until he was safely inside the Enforcer Patroller.
As they made their way through town Miles got to experience day time in the South West Yellow District. Although he couldn't believe it possible, the city looked even worse in the day light. Darkness has a way of euphemising and romanticising even the ugliest of people and places, but no matter how grim and dirty the Yellow District looked last night, under the harsh morning brightness it was as though the lights had been turned back on at closing time at a club. Decrepit human's littered the streets, and were almost as prevalent as the litter itself, of which there was an impressive amount. All the enthusiasm and motivation that Miles had managed to muster in the morning slipped away in an instant as the full magnitude of his situation once again dawned on him. If, and it was a big if, Miles was able to hold down a job and adapt to and survive the Yellow district there was no way that he'd be even allowed to apply for work in the Green Districts again for at least six months, and even then there is the processing time for an application which can take another eight weeks. Miles heart sunk as they approached the Earning and Learning Office, he looked up at its garish logo which featured the cartoon figure of a smiling man with a book in one hand and a wad of cash in the other, a misleading representation of money as physical currency had not been in existence for almost thirty six years. Still it worked as a symbol of wealth that was recognisable to anyone.
"*beep* This is your stop, and this is where we say goodbye*beep*" Said the tall Enforcer turning to face Miles in the back seat "*beep* If you don't wanna see us again I suggest you be good now and stay out of trouble *beep*"
Without saying a word Miles exited the vehicle and again raised his brief case over his head shielding himself from the pouring rain. The Enforcer's sped off and Miles made his way to the entrance of the office. He pushed the door open, entered the building and surveyed the entirely alien scene before him. Having never been out of work before Miles had never experienced life as a non-earner. Every person living on Carthage had a finite number of non-earning days allotted to them at birth. This number was 100. If a person should find themselves out of work or department sanctioned training program for a total of 100 days during their lifetime before retirement, they were immediately classed as an Under-Productive, branded and shuttled to Gyaros without trial. And it had been this way since it was written into law by the Areopagus in the year 28. Public lotteries and visor vision competitions were held in which extra days could be won and it was said there were technicians who could hack and manipulate an individual's biometrics in order to add days, though this may merely be legend, and would surely cost an absolute fortune if true. Miles still had all 100 of his days, a fact that he was extremely proud of, and that would remain the case should he find immediate placement with a new employer today at the office.
Upon entering the office a robotic voice spoke to him from his right side.
"Please place your hand on the screen to secure a place in the queue" Miles turned to see a monitor encased in white plastic with a touch pad below. He dutifully obeyed the voice, placing his palm on the black screen where the green hand outline indicated.
"Thank you…Miles Stanton…please take a seat"
Miles made his way to the rows of white plastic seats and sat two chairs away from a large, bald, surly looking man. The room comprised of a number of hatches lettered A through K. Miles observed that as people's names were called they would walk toward and enter the allocated hatch and the automated hatch door would close behind them. On the other side of the room were rows of monitors encased in plastic like the one at the entrance, people stood before them presumably browsing available positions and training opportunities.
"Miles Stanton to hatch B, Miles Stanton to hatch B" Hearing his voice called over the public address system Miles jumped to his feet and walked briskly to the open hatch B. As he entered the enclosed space the door shut swiftly behind him, he sat down in the seat provided and looked across at the lady on the other side of the thick, clear plastic barrier that separated them. Her name tag read Paula, she was a woman in her late thirties, had wild frizzy red hair, freckles, a tan that did not come as a result of UV exposure and to say she was sporting a little too much makeup would be putting it very lightly.
"Hello Miles, my name is Paula. I'll be your facilitator today" She said in a piercing nasal tone, while simultaneously pointing to her name badge. 'Does she think I'm a moron?' Miles wondered to himself.
"I'm just looking at your file, yes hmm, I see. Due to the circumstances surrounding your dismissal from your previous place of employment you have been placed under a period of non-earning probation" Miles knew all too well what this meant and he stood up angrily, slamming his hands on the shiny metal surface in front of him.
"This can't be, please, you don't understand I can…" But he was cut off by Paula's shrieking voice.
"Mr Stanton please be quiet and take your seat!" Miles, frightened by the sudden change in her tone, slowly sat back down and kept quiet. Paula cleared her throat and continued calmly.
"Now as I was saying, for the next six months your non-earning days have been reduced to zero. Providing that you remain employed for the full term of your probationary period your full 100 days will be returned to you. We cannot understate the seriousness of your work code violation Miles. Extreme bodily violence against a superior is no laughing matter" Paula said condescendingly as she looked at Miles with an expression akin to that of a mother reprimanding her child. Paula then turned her attention to the monitor in front of her.
"We have two positions available today that comply with your eligibility criteria, shall I read them to you?" She looked up at Miles who nodded sullenly.
"The first position is janitor at Le Cinema Magnifique, duties include cleaning, running errands and some light maintenance, the only other option is as a cart runner for Yellow Carts, and the only duty listed is, well, cart running" Paula finished and looked up to Miles awaiting an answer. Miles had a pretty good idea what a cart runner was. During his brief drives through the Yellow Districts with the Enforcers he had noticed a phenomenon he'd never witnessed in the Green Districts. Cart running, as it appeared to be called, from what Miles could tell was the act of one person pulling another person along in a rickety wooden chair with large spoked wheels and a covering to stop the rain reaching the passenger. As well as the physical demands, the very idea of performing such a humiliating task was enough to make up Miles' mind.
"I'll take the janitor job" Miles muttered without looking up.
"Very well" Said Paula "I have confirmed that you are now an employee of Le Cinema Magnifique. You are to report to Le Cinema Magnifique for orientation and training today at 11:00 sharp." Miles looked up to the digital clock situated behind Paula, it read 10:12.
"I have printed the address on this slip" Miles reached into the small opening at the bottom of the plastic barrier and took the piece of paper.
"Good luck Mister Stanton. Work diligently and productively and you will have nothing to worry about. Those six months will fly by and you'll have every one of your days back" Paula beamed a smile with her big red lips that Miles refused to return. Without saying a word the cheerless man stood up, turned and when the automated door slid open, made his way out of the hatch and then out of the building.
While taking shelter under the awning of the office Miles looked down at the address on the slip, and then up at the large digital tram timetable across the street. A tram was due and so Miles made his way to the stop, running through the rain until he was sheltered again. After a minute of waiting an automated tram pulled up, Miles boarded and took a seat. The tram doors closed and whisked the dejected man off to Le Cinema Magnifique.
~~~~~~~~~~~~~~~~~~~~
Thanks for reading! Stay tuned for Chapter 4 next Tuesday. Let us know what you thought in the comments below 

Take care, all the best!