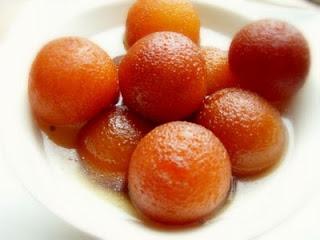 Wow! isnt it too tempting for the tastebuds?  One of my all time favourites....and the best thing about it is that it doesnt take much time and effort to make these cute little balls..hehe
Here is how its made:
Ingredients:
Powder Milk                 2 cupsFlour or semolina   1 tbspBaking Powder             2 tspGhee                           1 tbspSugar  2 cupsWater  2 cupsegg                              1Kewra water                 Few drops
Recipe:
Mix flour, egg, baking powder and milk powder alongwith ghee and make a dough using a few warm water drops. Make small balls from it and let it stand for 10 to 15 minutes.
For sheera, take 2 cups water and mix the sugar. Put it on medium flame until sugar is dissolved completely. Keep it warm on very low flame.
Take a Pan, heat up oil and fry the balls on low flame. When the balls turn light brown, take them out and put them directly into the sheera. Cook on low flame for a few minutes so that the sheera is absorbed in the balls. Now pour a few drops of kewra water and let it cool down before serving.