With most of my time spent on my desk working, it's hard to squeeze in time for a daily workout. I do feel guilty for this injustice to myself, but what to do: this girl/mom/blogger has her priorities???Occasionally, when I am able get my lazy bum off bed early, a thirty minute yoga session happens, but otherwise everything seems far from happening. But one thing that I try keeping tab of, under daily circumstances, is my eating habit. I have always striven to eat healthy, fresh and well-balanced meals and continue doing the same for my family.  I am willing to go that extra mile to cook fresh meals every time food is pit on the table. I am not the kind who does the calorie counting at every meal, but my mantra is to " eat everything, but in moderation."  It's all about making the right choices for your body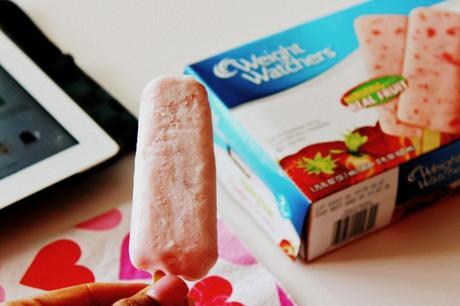 As much as I love my fruits and veggies, seldom do I enjoy sweet treats. Frozen yogurt is my all-time favorite and a summer-must-have-indulgence on family days out. It is one frozen-food item, that I can eat all day, everyday. 
I was so thrilled, when +Weight Watchers came out with these real fruit frozen yogurt bars. With the goodness of fruits and creaminess of yogurt, these babies at sixty calories each is sure to melt your heart. Eating one, every other night has now become an after-dinner-practice in my family. I don't mind one for a  mid-afternoon snack. So..........I can now have my cake and eat it too......and without any guilt...............only pleasure !!!
I also had a chance to try the english toffee crunch, and saying that I loved it too, would be an understatement. I am looking forward to trying the other flavors +Weight Watchers has to offer. 
Disclosure: Thanks to #WeightWatchersIceCream and +Influenster for sponsoring this post. All opinions and ideas are my own. 
Thanks for stopping by.
XO