What Are Trollbeads?
'Trollbeads' are said to be the original charm jewelry company who were founded after Søren Nielsen and Lise Aagaard came up with the simple idea to thread traditionally designed silver beads on to a leather cord for use as jewelry in 1976. Up to this point the common way of displaying these beads was by attaching them using a link or eyelet on which the bead was hung from the cord.
Since then, Trollbeads has grown into a giant of the jewelry world and is actually still owned by the same family who originally started it all!
What Type Of Jewellery Do Trollbeads Produce?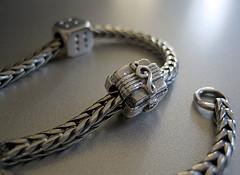 By far, Trollbeads are most famous for their charm bracelets, but they do also produce a range of other types of jewelry including rings, earrings, necklaces and pendants to compliment their charm jewelry.
The large growth in Trollbeads' popularity happened after 2002 when they started to produce glass charm beads in addition to their silver and gold beads. The possibilities of designs are truly endless with glass beads. The colours and designs that can be achieved have struck a chord with jewelry fans.
What are Trollbeads One of a Kinds?
Trollbeads OOAKs are glass beads which are as the name suggests one-of-a-kind designs, there are no two beads which are exactly a-like. For this reason OOAKs have also become known as 'uniques'.
More on AdClout: Three Alternative Brands Of Charm Bracelets
This has contributed towards the success experienced by Trollbeads because some of the attraction of charm jewelry come from the fact that collectors love to know that they are the sole owner of such designs. Fans of Trollbeads love the anticipation and the chase which surrounds the release of new OOAKs. They love interacting with the rest of the Trollbeads community which has grown from this trend to talk about their love of charm jewelry and proudly show off their collection of beads.
What are Trollbeads Limited Edition Beads?
Limited edition Trollbeads are charm designs which have restricted availability. They are either restricted in numbers, by location or for a limited duration.
Beads which are limited by location can sometimes be bought from overseas stockists if Trollbeads allows the stockist for that region to ship overseas. Recently the 'Trollbeads World Tour' series of country themed beads released a series of designs in this way.
Once charm designs are retired from production that's the last you'll see of it. This constant turn-over of charm designs ensures that the Trollbeads brand stays fresh and the limited availability of designs helps keep demand high.
Are Trollbeads Compatible With Other Brands?
Some designs of Trollbeads charms are compatible with other brands of bracelets. It is all a question of whether the holes that run through the beads are big enough to allow them to be threaded on another brand of bracelet.
Trollbeads produce some beads which are described as 'universal' charm beads. These have a larger hole making them compatible with Pandora and other brands. However, other non-universal Trollbeads are not normally compatible. Although you may find that some designs of Trollbeads silver charms are also compatible with other brands.
Where To Buy Trollbeads Jewellery
Trollbeads jewelry is only sold through authorised stockists. There are four different levels of stockists named – silver, gold, platinum and diamond retailers.
The higher the level of retailer, the more designs they are permitted to sell. For instance OOAK beads are only available at Platinum and Diamond stockists.
To find your nearest Trollbeads stockist, including what level of stockist they are, go to the Trollbeads website where you will find a complete list of retailers.
Featured images: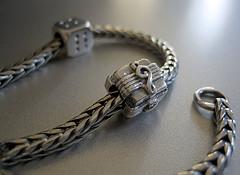 License: Creative Commons

 

image source
Amanda Southerby is a jewelry fanatic who loves to share her passion for charm bracelets.