It's guest post time once again and today's post comes from the lovely Beth who blogs over at BethMayBlogs
 Beth is a blogger who posts about all things beauty (my favorite subject!) a
nd if you haven't already checked out her blog then please do as she posts about so many of my favorite makeup bits & makes me want to buy plenty more. You can also find Beth on 
Bloglovin
 & Twitter
. Today Beth is carrying on from my '5 favourites under £5' post and sharing her 5 favorite beauty bargains. Enjoy!
Howdy! I'm Beth from 
BethMayBlogs
 and today I am going to carry on from one of my favorite posts from Kirsty which was her Top 5 under £5 post. 
For those who know me, you will know that  I love a good bargain and hate spending money willy-nilly. Fortunately this post/tag (call it what you will)  allows savvy-spenders, like myself (at least before I see 'SPECIAL OFFER' but hey -thats savvy?) to share 5 of their best bargains under a fiver so you can save your pennies...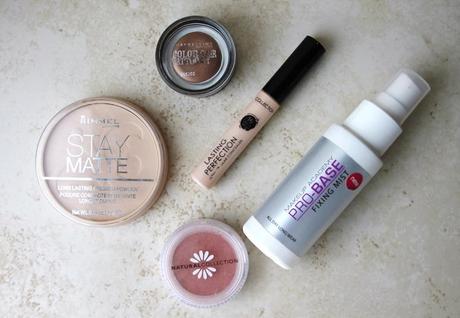 Rimmel Stay Matte Powder: 
For those that have read Kirsty's post you may have seen this product featured and I love it for the exact same reasons. It sets your makeup  without looking like you have been caked in makeup and helps to keep it in a similar state to how you applied it, meaning that you can run your errands, have a long day at work or go shopping and you won't end up looking like a grease-ball! The £3.99 price tag is also a love of mine as I am someone who hates spending money on things that are boring to me, basically anything that isn't lipstick, like powder but also wants a product to perform well.
Collection Lasting Perfection Concealer: 
Why is it that I always hear a sigh whenever I write about this miracle worker? Yes, I am mentioning this again because I bloomin' love it thats why! This is an absolute steal at around 4 pounds and apart from the hideous packaging that likes to rub off all inside my makeup bag, it has amazing coverage, great lasting power, a range of shades that meet my fair-skinned needs and is versatile to use on blemishes or under your eyes.
MUA Fixing Mist: 
I always hear MUA mentioned but I hardly hear people speak of this and I don't know why! I had trouble for ages with my MAC eyeshadows creasing but a spritz of this over your makeup and eyeshadow and it is fixed in place for the day. Its like magic! I'm always skeptical over things like this but the proof is in the mac eyeshadow pudding with this as they do not budge when using this! As for the rest of your makeup, it hardly fades and features like your blusher or bronzer stay much longer on your face and if they do decide to fade, they don't slide off your face in one hot mess and your makeup is still very much good to go.
Maybelline Colour Tattoo - On and On Bronze: 
I resisted the hype for these for well over a year until I saw one of my friends wear this and I couldn't stop staring at how amazing her eyeshadow looked and was completely sold when she told me she had 'slapped' some of this on. I rushed into Boots the same day and added it to my basket. 
Although the eyeshadow will never look half as good on my eyes, I love the colour, creaminess of cream eyeshadow and the lasting power. I really do think it would last the 24 hours claimed as when worn on its own or as a base ( my personal preference with UD Suspect on top) it does not budge and still looks fab at the end of a hot day and often I find that my eye makeup still looks spotless when the rest of my face is a hot mess ( only when I've forgotten to use my MUA spray though!).
Natural Collection Blushed Cheeks - Peach Melba: 
Last but not least is the cheapest of the bunch, my Natural Collection Blusher. Despite being rather tight when spending my money, I also think I can be a budget make-up snob and somehow always disregarded this, expecting it to be useless as it was so cheap. WRONG. This blusher is nicer than my NARS one ( Zen, I am yet to be converted) as it is finely milled yet so pigmented, blends like a dream but doesn't disappear. It also lasts all day and doesn't leave a stripe on your face when applying it, naughty naughty NARS. For £1.99 you could buy the whole range and still not have spent half the money you could on a high end blusher!
So those were 5 of my Top Picks of Products under £5! What are your favourites?