Guest Post:


6 Classic Pieces Every Woman Should Own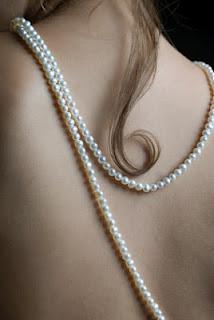 After sorting through my (what seemed to be) never ending jewelry box today I got to thinking that it would be a lot simpler if we just had those simple essentials that could be worn with everything and we didn't have to go crazy and end up with a collection that could rival Liz Taylor (in quantity, not diamonds obviously). That's why the lovely Emma Chandler, a freelance writer for various publications in the UK has written a little piece for Vita di Moda to help us sort through our clutter and get back to basics.
It's easy to get tangled up in sales and fashion trends, and be tempted to overload your jewelry box with stones, charms and chains. But a jewelry collection only needs the essentials – pieces that will remain timeless and those that are transitional from season to season. If you are looking to start, or complete, your accessory ensemble, here are six classic pieces every woman should own.
String of Pearls
A string of pearls goes with almost anything, whether you need to dress up a pair of jeans or complete a formal outfit. The same goes for a pair of pearl earrings. Pearl jewelry is timeless; it is classic beauty at its best. You don't have to pay hundreds for a nice set or string of pearls, especially if you don't mind being the only one who knows they aren't the real thing. Do you know how to test pearls to see if they are real? Either rub the pearl along the edge of your tooth or rub them together, if they feel gritty or sandy, they are the real deal. 
Cocktail Ring
A cocktail ring can bring a pop of color, depth and boldness to your entire look. Typically oversized and over the top, take a bit of the glam from your hair, make up and dress and put it into the ring on your finger. Statement pieces like brightly colored gems or emerald cut diamond rings won't go out of style, especially if they are in a traditional gold setting.
Diamond Earrings
Possibly the most classic piece of all, every woman needs a real or faux set of diamond studs to complete – or maybe start – her collection. A modest set can be worn with any outfit, while larger, bolder pieces can accompany a more glamorous ensemble. And while a diamond ring is typically something to receive from a lover or as a family heirloom, a pair of diamond studs is one thing a woman can buy for herself.
A Cuff Bracelet
A transitional piece that can be worn daily, a cuff bracelet adds a slice of spice to your wrist that can be sleek and modern on its own or grouped with a set of bangle bracelets. It should be substantial, but avoid anything too heavy or clunky. A cuff will be an investment: choose something based on your overall style. A solid enamel cuff is a classic choice, or mix it up with a geometric shape or a sparkler embedded with jewels.
Classic Timepiece
Don't underestimate the subtle beauty of a nice watch. A classic timepiece is not only utilitarian, but a piece of jewelry in its own right. A loose band can accentuate a thin wrist and feature feminine hands or manicured nails. Whether its simple with a diamond plated face or decorative with bold numbers, a watch can serve you many years while complementing almost every outfit.
Hoop Earrings
A pair of thin hoop earrings is a timeless, ageless essential. Whether worn by a teenager or a grandma, these earrings frame the face and add a touch of feminine elegance. A dainty gold or silver set go with every outfit, while a diamond encrusted pair can be reserved for dressier occasions.
Whether just starting your quest or hoping to add the final touches, these six pieces are the fundamentals of a fine jewelry collection.
Written by Emma Chandler:

 

Emma studied fashion merchandising in the South and now freelances as a writer and editor for various fashion publications.