Seasonal Footwear
To fill in the gaps between Paris Fashion Week reviews, I thought some guest posts would be a fantastic way to keep you all engaged and provide a reason for you to come back for a little visit. Today's guest post is a little snippet of some new season footwear and the kinds of trends that not only I, but a few of you will be 

indulging

 in this Fall.
Too much of a dichotomy can sometimes be made between summer and winter fashion and what to stock your wardrobe with. This need not be the case. 
As the seasons transition, especially this year with the weather being so unpredictable, it's a fascinating time to be investigating new trends. This is one of the few times a year in which you are free from the style restrictions of the rest of the year and y
ou can begin to dress elegantly without having to compensate for extreme hot or cold weather. Currently, there are plenty of unique designs in shops, giving a bit of a twist to what people are wearing. One does not even have to look very far for good quality and reasonable prices.
Current Styles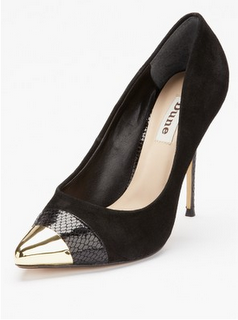 Balmoral Stilettos
Here are a few ideas for styles to get excited about this season, look out for them in collections by a range of top design houses; Patent shoes are something that have been missed throughout the summer; an elegant and sexy style that is perfect when the evenings are getting darker and cooler. 
A beautiful way to wear patent is in Mary Jane form with a bit of a heel. Coupled with a mid length evening dress this will create the perfect combination of class and femininity. For a look with more attitude try some patent boots; knee length ones are brave but if done right, bursting with style.
Whether patent or not, brogues work beautifully and are a lovely addition to anyone's wardrobe at this time of year. It's time to stop thinking about the beach and start focusing on work or your studies for the last little bit of the year until party season begins again in the winter. To compliment this, some edgy yet 
comfortable Dune shoes
 are a must to get you back in the professional mood. Brogues do just this. Given a feminine twist they are smart enough for the office and versatile enough for an evening out.
Studded boots - whether ankle length or knee length - are deliciously appropriate for autumn. We all miss our boots throughout the summer so finding a bold pair as soon as the time is right is essential at this time of year. Studs can be done in multiple ways. Small, shiny, and girlie for those who do not commonly feel confident wearing this sort of style, or you can go as chunky and spiky as you like, giving your outfit a real punk edge. They are an unusual addition to get you and your boots noticed.
*Sponsored post*