Hello there! I've a guest post for you today on "Runway Inspired Decor Ideas To Uplift Your Home". Do leave me your thoughts on this decor style!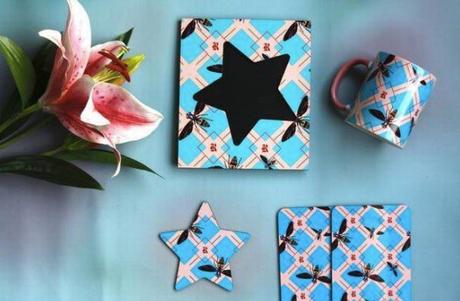 The season-switch can prompt you to hit the refresh button on your living space, giving you the chance to give your interior a revamp that reflects your style. The Spring 2017 collections, inspired many home décor experts, is cultivating new ideas. Through vibrant color palettes, materials and textures, renowned designer line-ups grew on themes that can easily slip into the comforts of your sanctuary.
Gucci 's creative director Alessandro Michele, for instance, incorporated a variety of jewel-tone brocade silhouettes in his latest offering for the famous Italian brand. Brocades dissolve well to furniture; textured wallpaper, instantly transforming a room and embodying Michele's maximalist aesthetic.
According to interior designer Rosalyn Lazaruk of Wicket Blue Designs in Edmonton, home décor and runway design have finally caught up with each other. What we are seeing paraded on models and in boutiques no longer takes an ungodly amount of time to pop in paint colors at home.
Interior decor and design are getting some momentum," Ms. Lazaruk says. "People are starting to think about having homes that have a little bit more personality or are a little more fashion forward."
Some of the hottest trends for spring are bold colors, vivid geometrics, luxe leather and the use of emerald. Many of the on-going trends, she says, are consequently décor rules being thrown out of the 'shabby chic window'. Bold is always better, since wood tones can vary, and different metals can be easily combined.
For all the trends mentioned above, Lazaruk recommends starting small with inexpensive additions such as paint, textiles, bedding, wallpaper, toss cushions and even artwork. A trend is just a trend to keep in mind the cost and permanence of each.
Here are six of this year's trends to uplift your home: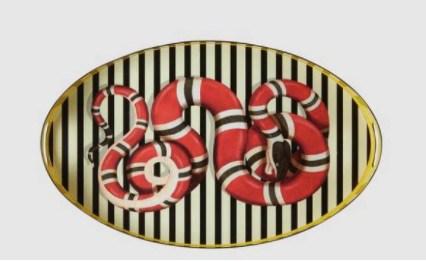 The Italian fashion house's, Gucci, foraying into a luxurious living room hasn't only provided us with one encompassing decorative look, but an eclectic range of elements to modify any nook and corner. With candles, chairs, cushions and more, it pulls from creative director Alessandro Michele's prints, graphics, patte rns and previous collections - so expect a lot of cats both wild and tame. One of the people-favorite element is the gorgeous metal tray shown above with a striking striped background and print of a king snake on top. It is approximately 940 US dollars - ideal to brighten up a table or a conversation.
The House of Christian Lacroix's flamboyant style is well met with New York City-based artist Brian Kenny's unavoidable style in a limited edition trio of cushions. Printed on the cotton-canvas is a 'whimsical Lacroix Sweetie' - giraffes in miniskirts and rabbits in trench coats, Liberty Parade (with a graphic novel vibe), and Together Cushion with its hand motif. This brings vibrancy to the sofa/bed rests.
Chettinad carpet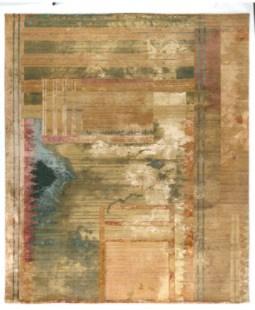 When the spectacular designer duo Abraham and Thakore come together with Obeetee - a century old carpet company whose rugs can be seen in places like the Buckingham Palace - you can be sure the results will be impressive. The designers have revamped Indian weaves and prints like bandhani and ikat to create pieces of art you can walk on. The Chettinad carpet is the most popular amongst home enthusiasts, with its classic border and color palette.
Leather has always been a popular, practical and durable material used in interior design as well as fashion. Ms. Lazaruk believes that interior experts got a bit bored of it after all the puffy sofas of the 1980's, but now the flair is back with a modern touch that portrays a sense of 'old world luxury' and an elegant lounge feel. It is not necessarily about having the same leather set anymore. You may have a clean-lined, basic black leather sofa in your crib and a club chair that is done is a rustic kind of leather.
Similar to layering our clothes, home décor is playing with leather layers of various colors and textures. The leather is being cleverly piled on rugs, toss cushions, flooring, furniture - you name it. A great way to incorporate the advanced material in your space is to start small with items such as faux leather dining room chair or an ottoman.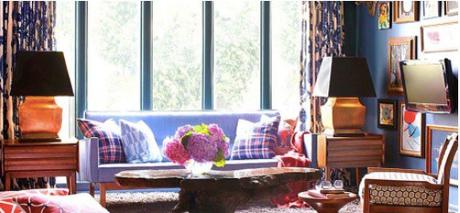 According to Elle, fashion is made for plaid, particularly tartan. The sight of flaming red and intersecting lines livened up New York runways as plaid - a perennial favorite pattern - as it came to the forefront again.
At home, plaid gives a significant up-lift to solids, providing contrast and character no matter where it shows up. If you're to make a fashion statement, forget the casual pillow and go all out on a chic foundation piece, like Justin Timberlake's couch.
Vivid stripes and geometrics
Before it was zigzags and stripes and now all the zippy patterns are coming together in home décor, throwing a massive geometric party that adds energy to your space. According to Lazaruk, the designers are mixing them to create a geometric look. You can add a honeycomb pattern to a chevron on the wall, tossing cushion with stripes in your area rug.
Mixing up geometric patterns works because they have the same contrast and linear line. Since they are a source of 'uber-creative inspiration,' you can go monochromatic, grey and white, or experiment with bolder colors.
All in all
Ralph Lauren has a complete home furnishings decision - everything from large-scale upholstery to lighting and accessories. It is only a natural progression for a fashion designer to also tackle a home fashion line. The true love for fashion now crosses the threshold of the foyer, living and dining room, additionally to the closet.
If you want to enjoy an honest-to-goodness fashionable lifestyle, then you must welcome both home and apparel fashion into your world.
About Ashley Rosa: Ashley Rosa is a freelance writer and blogger. As writing is her passion that why she loves to write articles related to the latest trends in technology and sometimes on health-tech as well. She is crazy about chocolates. You can find her at twitter: @Ashrosa2