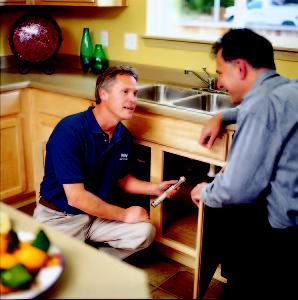 Hello everyone! I've a guest post on home inspection by George Morariu, a WIN Home Inspection partner who offers inspections and specialized services for realtors, homebuyers and sellers. I hope you find this information valuable.
Buying or selling your home is not an easy process. There is a lot to consider: which realtor you should use, your asking price, your settling price, what you are taking with you, what you are leaving behind, what repairs need to be made. The list can go on and on.
However there is a sure task that needs very little consideration. Having a professional home inspection is imperative to not only a buyer, but also a seller. When you have your future or current home inspected by an experienced inspector, you ensure that your home is a true investment and more importantly, safe for your family. No home is perfect or without flaws, but don't take the chance of missing one crucial detail that could lead to continuous costly repairs. Know all the facts before you buy or sell.
Selling:
A lot of times sellers don't consider spending the time and money on a home inspection as it is often left up to the new buyers. However, having your home inspected before you sell can dramatically increase your chances of selling your home. When you know crucial information about your home, you have the control and are able to make stronger, more informed negotiations. Not only will you have total confidence in your asking, you can be transparent with your new information, giving your buyers confidence in you and making the sale happen quicker.
Buying:
A new homeowner's worst nightmare is uncovering numerous problems that were not seen during the purchase. This can easily be avoided with a home inspection, as experienced inspectors know exactly what to look for and don't miss the minute details that could break your bank in the long run. Home inspectors will see everything, like a leaky roof that has damaged the insulation rather than what's visible to just the living spaces. Perhaps there are cracks in the foundation, rotting wood, a poorly installed skylight or newly attached deck. These are all details that the average homebuyer will not look for or see. These are some of the most common problems with homes and some of the most expensive to fix.
Keep in mind, there are some things you can look for yourself when considering or touring a new home. Observe if the property is sloping towards or away from the home. This could be an incredible indicator of current or potential water damage. Be aware of gaps along the foundation, these are how pests and wood destroying insects enter the home. Did you think to check the windows? Are they designed for weather conditions in the area? Evaluate the interior of the home and pay special attention to the floors, ceilings and walls. Lastly, always check the water for pressure, temperature and color. Make sure that the water heater is suited to your needs.
There is a lot to consider when buying or selling a home. The best and only way to be sure that you are making the right purchase is by hiring a home inspector.
George Morariu's services are available in these areas in Bay area, California - Castro Valley, Fremont, Hayward, Newark, San Lorenzo and Union City and he can be reached via phone at 510-793-9946, email at [email protected] and via his site at WIN Home Inspection Tri-Cities.