From Mad Max to The Midas Touch:
Haute Couture Shoe Trends 2012
"Fashion is not something that exists in dresses only. Fashion is in the sky, in the street, fashion has to do with idea, the way we live, what is happening." ~ Coco Chanel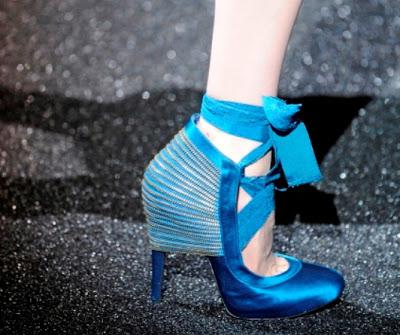 Haute Couture is the supreme sophistication of everything elegant. Each year design houses take us on a journey by visually telling a story. Fashion is an adventure ride that travels through time and space at speeds sometimes beyond comprehension. With extreme attention to detail, the 2012 Fall Haute Couture fashion shows of Paris, Milan and New York visited the ancient world of the Romans, the fantasy-land of princesses, the dark future of alien integration and the dystopic society of Mad Max, all the while receiving the Midas Touch. 
This year's runway found many trends from our favorites designers: crystal embellishments, tailored pants, elegant gowns, tuxedo jackets, chunky metallic accents, sheer chiffon, reserved color palettes and gold...an abundance of gold accents. These elements can be found in the shoes of 2012 Haute Couture.
Golden Glamour
Everything is coming up gold this autumn. From Alexandre Vauthier's clear plastic and gold embroidered boots that seem to be fashioned from the Château de Versailles, to Chanel's heavy metal-adorned leather pumps, this year's gold is delicate and beefy giving new meaning to "lead-footed." When taking it to the streets, add gold metal accents to everything from your hair to the buckles on your boots.
Feminine/Masculine Juxtaposition
Androgyny and juxtaposition were Jean Paul Gaultier's inspiration at the fall Paris show. While coupling leather with sheer chiffon, he added top hats and tailored jackets as an homage to 19th century poet Alfred de Musset's "Confession of a Child of the Century." Valentino designers Pierpaolo Piccioli and Maria Grazia Chiuri took to dark romance and seduction by balancing the hard with the soft, while being influenced by the "vamp" appeal of the 18th century. These ensembles travel down to the shoes by mixing fabrics and metals, adding soft gold to biker boots and garnishing crystals to chunky boots. Look for monochromatic color from head to toes.  
Caged Gladiator Pumps
Speaking of Gaultier's autumn 2012 fashion, emotions could be drawn from the pale blue, thigh-high leather cage shoes (worn so eloquently with flapper-inspired dresses). Cries of desire and intrigue can be heard when these platform-style shoes appear. They are beautiful in their color and design. Varieties of this caged gladiator-style shoe can start to be seen in the stores and on women (and men) across the globe.
Fiercely Futuristic
Take one look at Iris Van Herpen's visionary collection gliding down the catwalks of the Paris Fashion Week and you'll be lured into a futuristic world of smooth surfaces and alien teeth. It's  creamy, bloodthirsty and wild; and we love it. Outrageous styles are reaching more unique heights with every runway exhibit. Van Harpen's fierce talent and original eye are more than prepped for a big reception.
Chunky Metal Accents
When you think of thick metal, certain kinds of architecture might come to mind. This is exactly what Chanel's creative director, Karl Lagerfeld, showed by way of shoe design when working in his "new vintage" collection. Chanel was not the only house to feature chunky metal accents, the raw metal trend continued with other Haute Couture designers. 
*Written by Cherie Gorden