Hello Everyone,
I'm Lyuba from Funky Makeup Junkie, but fear not, although I love makeup I also love to read. Usually I read fantasy and/or romance novels with some women and cultural studies books thrown in for good measure. So today the book I have for you is not a romance per se, but more of a paranormal mystery which is a nice fresh breath in my otherwise romance overrun Kindle. I love me some good romance (and when it's paranormal or fantasy it is even better) but sometimes I get tired of women losing their minds in a proximity of a hot guy, and I want something different. 
Frost Moon
 by Anthony Francis is that something different.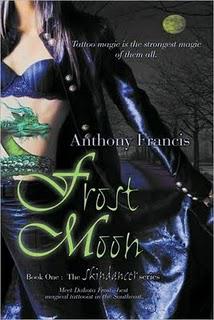 Product Description
In an alternate Atlanta where magic is practiced openly, where witches sip coffee at local cafes, shapeshifters party at urban clubs, vampires rule the southern night like gangsters, and mysterious creatures command dark caverns beneath the city, Dakota Frost's talents are coveted by all. She's the best magical tattooist in the southeast, a Skindancer, able to bring her amazing tats to life. When a serial killer begins stalking Atlanta's tattooed elite, the police and the Feds seek Dakota's help. Can she find the killer on the dark fringe of the city's Edgeworld? Among its powerful outcasts and tortured loners, what kind of enemies and allies will she attract? Will they see her as an invader, as a seducer, as an unexpected champion ... or as delicious prey? FROST MOON is Book One of the SKINDANCER fantasy series by debut author Anthony Francis. Filled with unforgettable characters, spine-tingling action, kinky rebellion and edgy love, FROST MOON is classic storytelling at its best, and Dakota Frost is an irresistible new star of fantasy fiction. Anthony Francis is a computer scientist who works at the 'Search Engine That Starts With A G'. By day he studies human and other minds to design intelligent machines and emotional robots; by night he writes fiction and draws comic books. He received his Ph.D. in Artificial Intelligence from Georgia Tech. He lives in San Jose with his wife and cats but his heart will always belong in Atlanta.
~*~*~*~ 
The book follows the (mis) adventures of Dakota Frost, the best magic tattooist in the whole southeast. She lives in the world that is our own, except magic is real and all the paranormal creatures are real too and are out in the open. Except I got a feeling that some people in the world are in denial about that from all the surprised looks and reactions. The world was the first thing that drew me into this book, because it was so real! The characters are not bad-ass, they don't kick butt every time and they get their butt kicked plenty of times too. They seemed like someone I would meet in my local bookstore or Starbucks, and someone I will fit right in with too. 
Dakota Frost is openly bisexual and there is a heavy emphasis on talking about lesbians and her experiences with her ex. At first I thought it would turn me away, but it didn't seem imposing. Sure she is bisexual (who is strangely gets pretty shy around guys), and although I normally prefer my books to be completely heterosexual I can take a different view once in a while. Since she is a tattooist, there was plenty of technical terms and explanations but it felt more informative than boring, and I was glad for all the extra info. I personally don't want a tattoo but it's interesting to read about how tattoo process works without having to go out of my way to research. 
The characters are well developed and fun, the good guys (although not perfect) are likable and the bad guys need to be kicked in the nether regions. I kept getting annoyed at Dakota for all her bravado and tough talking without actually having anything to back her up, but after complaining to a friend I realized that this is exactly why she seems so real. She might seem tough, but she is not a stereotypical kick-ass female character and it was so refreshing to read. My favorite character was Cinnamon and I felt like her relationship with Dakota was resolved rather nicely and I'm looking forward to seeing more of her in the second book (whenever that comes out).
My only minor gripe is that Dakota never actually says how tall she is? We know she is tall, because she constantly talks about being taller than most men, but she never actually says how tall! It was driving me nuts a little, because I just wanted to know! At some point she mentions that she is taller than 6'1", but that's it. She spills the beans in the excerpt from the 2nd book (yup, just my luck it's a series and the 2nd book is not even out yet) and says she is 6'2". So for those of you who are like me, and will be dying to know here it is, her mysterious height! 
I recommend this book for anyone who likes paranormal stories but not necessarily likes romances (or got tired of paranormal fluff and is looking for something different). 
5 out of 5 
~ Lyuba