I first developed my style crush on Megan Rutledge when we took Communication Law together last year. Every day, she waltzed into class with an outfit more colorful than the last. I envied her bold take on mixing patterns and prints. Plus, she was the proud owner of a pink sparkly laptop case—that's soul sister material in my book. I got to know Megan better last semester in our Fashion Journalism class. I loved editing Megan's articles, because they were so
her.
I always knew Megan wrote the article without having to look at her byline. Megan's voice is uniquely hilarious and outspoken, and a real treat to read if you haven't checked out SMU Fashion Media yet. I was thrilled when Megan recently decided to start her own blog, MDR Casual. I know you will fall in love with it just as much as I have. I invited Megan to create a collage based on everything a stylista needs to celebrate New Year's Eve. Champagne not included ; ) Enjoy!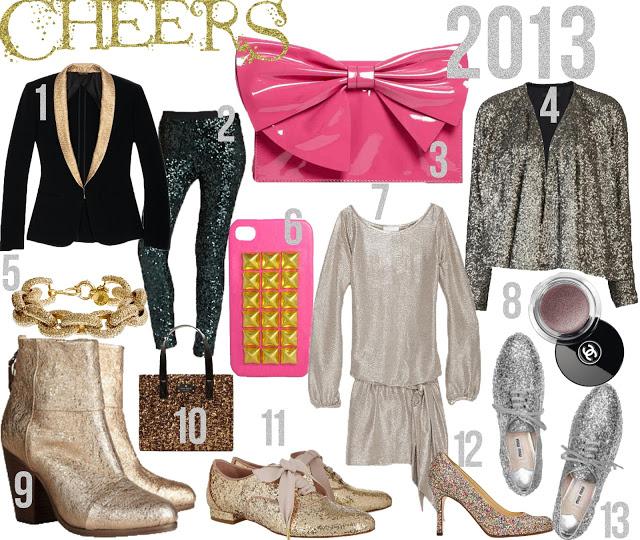 1. Rag & Bone Sliver Tuxedo Jacket with Gold Shawl Collar, $4892. French Connection Sequined Skinny Pants, $1983. Valentino 'Lacca Bow' Flap Clutch, $9954. Shopbop Funktional Weiland Swing Jacket, $1925. J.Crew Classic Pavé Link Bracelet, $1256. Jagger Edge Hot Pink iPhone Case, $987. Intermix Metallic Lamé Sash Dress, $2988. Chanel Illusion D'Ombre Eyeshadow, $369. Rag & Bone Newbury Metallic textured-leather ankle boots,
$550
10. Kate Spade City Sparkler Grayce, $17811. RED Valentino Glitter-finish lace-ups, $39512. Kate Spade Karolina Heels, $32513. Miu Miu Glitter-finished leather brogues, $650

1)   Why did you start blogging? Creative outlet? Online shopping problem? Give me the deets behind MDR Casual!
Ever since I was a little girl, I would collage, and I can still hear my mom getting angry for finding magazine scraps all over her house! But seriously, my first word was "shoe." I have loved clothes my whole life, I still get butterflies when I see something I love. Somehow along the way this translated into online shopping (during those hours when the stores were closed and I needed to get my fashion fix). From there I wanted to combine my love for arranging/collaging with my archives of my favorite new fashion finds, and realized a blog was the perfect outlet. I am so inspired by my contemporary fashionista bloggers, like Brooke du jour!
2)   How would you describe your personal sense of style? (I know you share my mutual love of color, sparkles and sequins!)
As a New England native, I have always been preppy. I idolize Jackie-o for her timelessness, which is completely at odds with my love for new trends. My best friend describes my style as feminine and bold. I'm a little bit all over the place with my style because I think it's always changing as I grow as a person and become more confident to make bold fashion moves. But one consistency is my love for pink and sparkles—I mean 'whoever said orange was the new pink was seriously disturbed!'
3)   If you were trapped on an island after a holiday vaca gone awry, what one beauty product would you wish you had?
Shu Uemura's "Art of Hair" shampoo and conditioner! They say to never splurge on shampoo, but this is an exception to that rule—your hair will never feel so clean after each wash. My hair (on an island, especially!) needs to be tamed and these treatments help to do the trick.
4) What was your favorite celebrity style moment of 2012?
Definitely printed and silk/'pajama inspired' pants. So comfy and stylish! Also I remember reading a Kate Winslet article in
In Style 
where she alludes to maxi skirts being the next thing, and I definitely took that and ran with it. Basically anything flowy and long--- I hope will stay for a while!
5) Have you started brainstorming your New Year's resolutions? Are you usually good at sticking to 'em?
I actually have not made a solid resolution maybe ever… I think for this year my resolutions will be to indulge in my new blog in my free time as much as possible. Oh, and to give more hugs!