Another cancellation for the Met's Don Giovanni.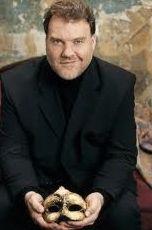 Dinner guest: Bryn Terfel.
Photo © 2012 Deutsche Grammophon.

In October of 2011, one of the biggest stories coming out of the Met involved Mariusz Kwiecien, who was replaced in the title role of the Met's new production of Don Giovanni after being injured in a rehearsal. He was replaced by Peter Mattei, and the show went on.
Now there are problems with the second cast. Bass John Relyea, scheduled to sing eight performances as Leporello, has bowed out of the production, according to a report on The Wagnerian's blog. Mr. Relyea's doctor ordered the singer to rest his voice. 
Their replacements for the upcoming shows will be Kyle Ketelsen, who will sing the first four performances, and none other than Bryn Terfel, who will sing the last four shows in March.  
Mr. Terfel, last seen as the Wanderer in the Met's new production of Wagner's Siegfried made his early reputation with this opera, singing and recording Masetto (with Arnold Östman) the Don (with Sir Georg Solti) and Leporello (with Claudio Abbado.) He first sang Leporello at the Met in 1995, and the Don in 2000 
This run of the company's new Michael Grandage production pairs the singers with Canadian baritone Gerald Finley in the title role. The cast also includes Matthew Polenzani as Don Ottavio, Marina Rebeka as Donna Anna and Isabel Leonard as Zerlina. James Morris (another famous Met Wotan) is the Commendatore. Andrew Davis conducts.
Don Giovanni returns on Feb. 21.
Recording Recommendation Don Giovanni is one of the most frequently recorded Mozart operas, and many fine recordings are available. Here are three that I like.
Vienna Philharmonic cond. Josef Krips (Decca, 1955) Don Giovanni: Cesare Siepi Leporello: Fernando Corena Donna Anna: Suzanne Danco Donna Elvira: Lisa della Casa Il Commendatore: Kurt Böhme One of the first stereo recordings of this opera, the Krips recording captures singers of a different age in the fertile ground of Vienna, just a decade after the war. Siepi and Corena play the roles of master and servant with gusto, and the conducting is terrific.
Chamber Orchestra of Europe cond. Claudio Abbado (DG, 1998) Don Giovanni: Simon Keenlyside Leporello: Bryn Terfel Donna Anna Carmela Remigio Donna Elvira: Soile Isokoski Il Commendatore: Matti Salminen This was Bryn Terfel's third recording of the opera, and his first as Leporello. (He was the Don for Solti's recording, and also recorded Masetto.) The Welsh baritone seems much more comfortable as the Don's slippery servant, and gives a great reading of this part. Abbado's conducting is spot on, as is Matti Salminen's terrifying Commendatore.