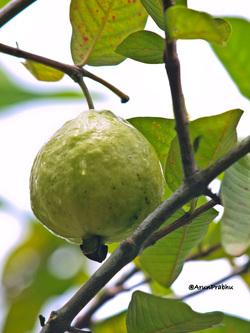 Guava Fruit
Did you know that Guava is a powerful immune boosting fruit that is chock full of Vitamin C, is pink in the middle, and grows on a small tree?  The Guava is native to Central America, Mexico, and northern portions of South America.  While we know what fruits to get our Vitamin C from, did you know that a Guava has 4 times the amount of Vitamin C than that of an Orange? Guava = Good.
Guava and Strawberry Fruit Smoothie Ingredients:
1/2 cup guava, seeds removed
6 large strawberries
1 banana, peeled
2 cups fresh baby spinach (will blend with no taste)
8 ounces almond milk (Blue Diamond has a good one)
Just mix and serve!  This yummy smoothie is full of good vitamins and minerals and is sure to keep you feeling good all day.
Remember that picking a Guava is like picking any other fruit and vegetable.  You want a firm Guava, not one that is soft.  You don't want one that is still yellow, as these will be hard to de-seed for your smoothies.  Also, as with any other fruit or vegetable, avoid Guava that is cracked or peeling. 
Let me know what you think!  You can always leave a comment here, or you can also join me on
Facebook
and
Twitter
and comment there! I would love to hear what you think!
---
---