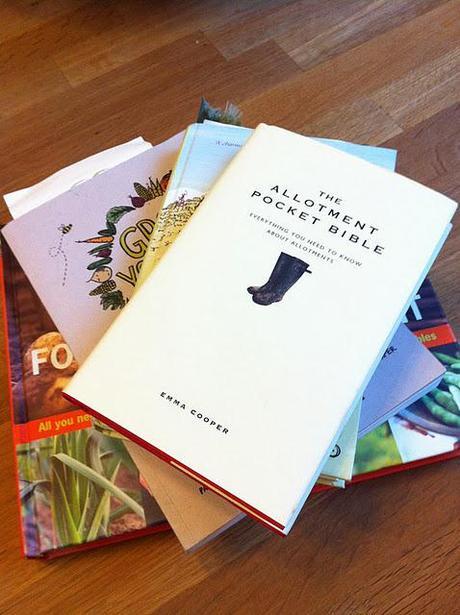 We'll soon be at that point in time where gardens sleep, days are short and the best thing to do is snuggle up in front of a wood burning stove with a nice cuppa and a good book.  I always find that this time of year is perfect for planning the gardening year ahead and in this instance a good bit of reading always helps to add to and inform such plans.  I've recently read four books that all focus on a similar theme and if you have an allotment or are growing your own produce then they might be just what you're after.
Personally, I'm taking heed from parts in each of these books as I go about reclaiming another weed infested, Budddleia and dock riddled allotment plot.  From reusing materials, reclaiming useful plants and using some patience when designing the future plot, each of these books can and will help anyone in a similar position and anyone else embarking on growing their own.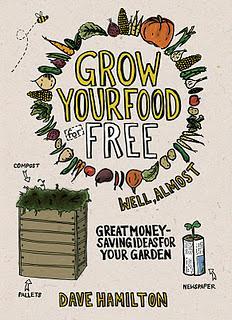 First up is 'Grow Your Food for Free (Well, Almost)' by Dave Hamilton.  As the title suggests this book is both about growing your own produce and saving yourself money in the process.  Taking a step back from garden trends and consumerism, Dave discusses ways in which gardens can be created from what we have around us, what we can salvage and what we can save.  The book aims to change the way we think about "rubbish" and goes a long way to influence resourceful gardening.
The book itself is packed with useful information, personal accounts and quirky illustrations by Dave's partner Ellie Mains.  Divided into seasons, the book takes you right through the growing year, but unlike other gardening books this one is different and feels refreshingly new.  Modern topics, holistic approaches and practical advice are all combined with the more traditional way of growing crops to provide a healthy tome for the new gardener and snippets of useful information for the seasoned pro.  I particularly loved the way Dave encourages the reader to evaluate and plan any new site, to see what's already there and to work around what's useful.  Dave's origami bags are something to envy, I need to master this art as I'm forever looking for a bucket or pockets in which to carry eggs and vegetables, but I think I'll leave the humanure to the pro's.
This book is a great read with serious issues at its heart and I would thoroughly recommend it to anyone who is interested in growing their own food or gardening with sustainability in mind.  You can follow Dave on Twitter here.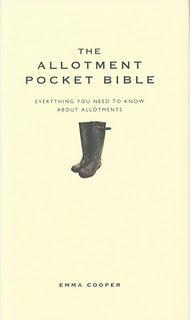 Next up we have 'The Allotment Pocket Bible' by Emma Cooper.  Coming from The Pocket Bible Series of Books this offering has a traditional feel and layout.  This is the type of book that you would take with you to the plot and go to for practical advice when needed.  It's small enough to carry along to the plot in your hand or back pocket and is full of useful and up to date information for the novice and experienced gardener alike.
Emma takes the reader through the history of allotments, picking a site, plot maintenance and then moves on to growing and using crops.  There's an extensive list of crop profiles in the book and the growing calendar in the back of the book is quite a useful quick reference.  Emma also incorporates a few recipes to help you use up your harvest and personally I'd like to see more of this.  Maybe in the next book Emma?
If you're starting an allotment or thinking of getting one then this book is a great start and Emma's writing style and knowledgable offerings are always a joy to read.  You might also be interested in reading a past interview with Emma from back in 2009 when she published 'The Alternative Kitchen Garden an A-Z' or visiting her website here.  The Allotment Pocket Bible by Emma Cooper (£9.99, Pocket Bibles) is available from www.crimsonpublishing.co.uk and all good book shops.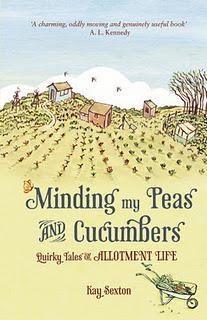 On a different track, we move on to 'Minding my Peas and Cucumbers' by Kay Sexton.   This book, also focussing on allotment growing, is written in a very different style to the others mentioned here and takes on a novel-like form.  Kay takes us through the struggles she had in finally becoming a plot holder, after volunteering for many years, and she outlines the gritty politics and humour of allotment life.  She brings a reality to vegetable gardening that is rarely seen by utilising her own experiences and other stories from the plot.  Her tales are intriguing but transferable to allotment sites all across the country and I was touched by some of her stories, whilst also managing to giggle at others.  Akin to a female 'One Man and His Dig' by Valentine Low, this book is most certainly not just aimed at women and hits upon many topics.  I found that I could associate with most of the stories, its characters and on reflection I also learned a few things.  Kay's writing style is conversational but this doesn't compromise its content as she incorporates much practical advice, with recipes thrown in for good measure too.
If you are looking for some insight in to allotment life, if you hanker for some handy tips or even if you simply want to delve in to a world completely alien to your own then this may be just what you need.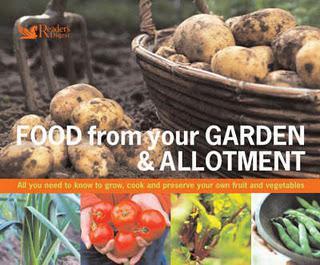 And finally, we take a look at 'Food from your Garden and Allotment' from Reader's Digest.  This weighty book is much more encyclopaedic than the others discussed and is beautifully presented with a wealth of photographs and illustrations.  First published in 1977, this new edition brings everything right up to date.
The strap line on the front of the book reads: 'All you need to know to grow, cook and preserve your own fruit and vegetables', and it sets out to do just this.  The 320 page book is divided in to five colour coded sections taking the reader right through a basic guide to the kitchen garden, growing and cooking, the food-growers calendar, identifying pests and diseases, and home preserving.  Each section is easy to read and packed full of useful information that would guide even the newest gardener to food growing success.
This book is great for anyone who's interested in growing their own and is sure to be a hit with the novice, amateur and seasoned allotmenteer alike, as many subjects and techniques are discussed.  The book has depth and the layout works really well making it a great read and resource.  The chapter on preserving really stood out and took this book to another level as not only does it guide you through growing your own produce but it also informs you on how to get the most out of your produce.
If any of these books have taken your fancy or if you want to read more please click here.  Also, for your chance to win a copy of 'Grow Your Own Food for Free: Well Almost' and 'The Allotment Pocket Bible' simply email: [email protected] with your full name and contact details.


Terms and conditions:

This competition closes at 23.59 on 13.11.11. Any entries received after this time will not be counted. 

Entrants must be UK residents aged 18 years or older to enter.  By entering this competition

 you agree and consent to your name being published and b

y taking part in the competition, entrants are deemed to have read,understood and accepted all of the Terms and Conditions and agreed to be bound by them. The winner will be selected at random and will be announced here on the blog.  Only one entry per email address will be allowed.