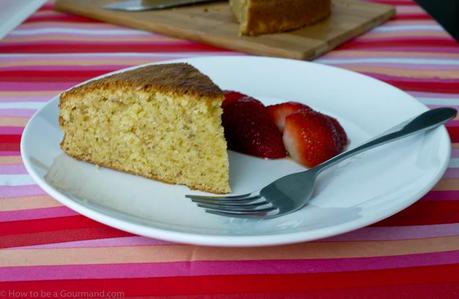 Ground Hazelnut and Olive Oil Cake
I have talked before about how much I love and respect my dad and how he had to overcome some difficult challenges in his life to bring my sister and I up single-handedly. This Sunday marks Father's Day and in a fitting tribute I have decided to put my baking skills to the test. Yes, I have decided to venture into the murky world of baking once more. But fear no more for this is a pretty fail-safe recipe. I have adapted it from La Cucina Italiana Magazine.
When offering cake to my father, he is easily pleased. Subtle, unadulterated flavours will suffice. No need for buttercream toppings or fillings of fruit and cream. Simplicity always brings about a nod and a smile. When it comes to desserts we have quite similar tastes. I appreciate it is yet ANOTHER recipe using hazelnuts but they were calling me from the store cupboard, two bags full, so you see, I simply couldn't resist!
If you cannot muster up the strength to unpeel all those hazelnuts click here to find a quick and painless way of doing it.
I've often wondered how a cake made with olive oil would turn out and I must say, I am suitably impressed. A nice alternative to butter and not overly moist. I even caught myself having a slice of this cake for breakfast this morning! I've significantly cut down on the amount of sugar and olive oil used in this recipe. I couldn't bring myself to pour 75ml of oil into a cake, even if it is a healthier alternative to butter! I've also used semi-skimmed instead of whole milk.
Print Ground Hazelnut and Olive Oil Cake
Prep Time: 30 minutes
Cook Time: 1 hour, 15 minutes
Total Time: 1 hour, 40 minutes
Serving Size: Serves 8-10
A relatively light and moist hazelnut sponge cake using olive oil instead of butter. Just the thing to complement an afternoon cup of tea.
Ingredients
50ml of extra virgin olive oil, plus more for cake tin
150g of hazelnuts, shelled
150g of plain flour
1 tbsp of baking powder
4 large eggs
150g of white granulated sugar
75ml of semi skimmed milk
Instructions
Put the shelled hazelnuts in the oven at 180°C and bake for 5 minutes.
Remove and set aside to cool down.
When the hazelnuts are cool enough. Use a grinder or food processor to grind them further until they are finely ground but not a powder.
In a bowl, mix together the flour, baking powder and the ground hazelnuts.
In a separate bowl, whisk the eggs together to make a yellow foam for about 2 minutes.
Gradually add the sugar to the eggs until a thicker consistency is achieved. This should be around 4 minutes.
Gradually add the hazelnut and flour mixture, then the olive oil and the milk, beating 1 minute more to combine.
Take a 9-inch diameter cake tin and brush the bottom and the sides lightly with some olive oil.
Transfer the batter contents to the cake tin and bake in the oven at 180°C until golden for about 1 hour and 10 minutes.
Oven temperatures can vary so observe the cake after 1 hour and use a tester to insert into the center. If it comes out clean, remove from the oven and cake tin and place on an airing rack to cool down.
Notes
Baking times may vary according to oven temperatures. Check regularly after 1 hour in the oven.
Schema/Recipe SEO Data Markup by ZipList Recipe Plugin2.2http://howtobeagourmand.com/ground-hazelnut-and-olive-oil-cake/Unless otherwise stated, text and photographs © 2011 How to be Gourmand. All Rights Reserved. Kindly request permission from the author to copy or reproduce elements of this blog.
I served my cake with some macerated strawberries and a large mug of tea!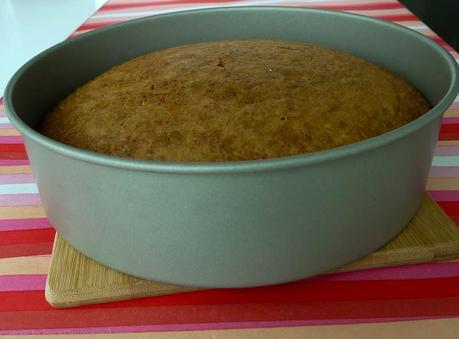 Freshly Baked Ground Hazelnut and Oilve Oil Cake
The cake serves 8-10 people and can be cut and frozen if you feel you won't manage to tuck all the way through it over the next couple of days. Ideal cake for afternoon tea or picnic lunches as it is easily portable.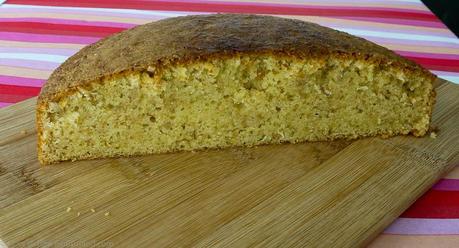 Cutting through the Ground Hazelnut and Olive Oil Cake
I'm entering this into Four Season's Food Challenge jointly owned by the lovely French residing ladies Louisa at Chez Foti and Anneli at Delicieux. This month the host is Anneli and the theme is Summer.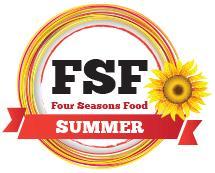 I'm also entering this into the Made with Love challenge hosted by Javelin Warrier. The cake has been made from scratch ( and with a whole lotta love!) and I've been wanting to take part again for some time!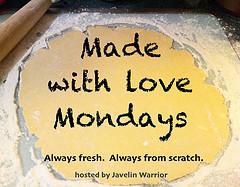 Do you have any special dishes you will be preparing for Father's Day? I'd love to hear about them in the comments below.
Like How to be a Gourmand on Facebook