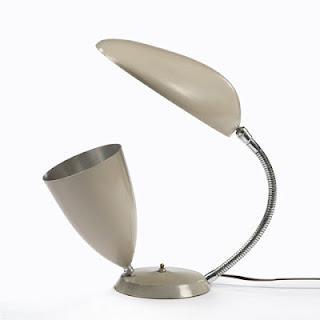 Greta Magnusson Grossman, USA, circa 1950 Table lamp in enameled aluminum on a chrome-plated steel base with one cone shade and one "Cobra" shade. Designed for Ralph O. Smith, California. Image courtesy of R20th Century.
Just the other day I realized that I do not feature enough objects on this blog. I mean, I do write about objects but I do not really zero- in on a particular object that I love. Therefore when an image of this beautiful lamp by Greta Magnusson Grossman (1906-1999) found its way into my in-box,  I knew that it was fate.
Grossman began her career in Sweden in the 1920's, focusing on the design of furniture and lighting. In 1940 she moved to Los Angeles with her husband,
a jazz bandleader named Billy Grossman. 
Grossman is a designer with serious accolades. She was
the first woman to graduate from the Stockholm School of Industrial Design, the first women to be awarded by the Swedish Craft Association for furniture design, the first women to own and operate a furniture studio. Her contribution to the 20th century modern design movement is on par with Charlotte Perriand and Lily Reich (who collaborated with Mies van der Rohe). In fact, Grossman was even more prolific than both of these designers because she worked in the United States and in Sweden. Grossman not only created successful products for such companies like
Glenn of California, Sherman Bertram, Martin/Brattrud and Modern Line but also had private clients like
Greta Garbo, Joan Fontaine and Gracie Allen, who like her were strong and independent women. 
Grossman's aesthetic is clean and simple, perfect for the Frank Lloyd Wright designed interiors which inspired every American housewife during this period. Grossman's business cards stated that she sold
"Swedish modern furniture, rugs, lamps and other home furnishings."
This lamp is a variant of the "Cobra" lamp which won
the Good Design award in 1950 and was exhibited at the Good Design Show at the Museum of Modern Art in New York City. These lamps were originally designed
for Barker Brothers but were later produced by Ralph O. Smith. The lamps proved iconic due to their bullet-shaped shades and flexible arms.
Grossman's work has been receiving a lot of attention recently, partly thanks to New York gallery R20th Century (which I wrote about just last month in my post on the work of Jeff Zimmerman) whose principles, Zesty Myers and Evan Snyderman, have worked tirelessly to promote Grossman's work since purchasing a portion of her estate in 1998.  Myers and Snyderman have curated an exhibition of Grossman's work, "
Greta Magnusson Grossman: A Car and Some Shorts" which is currently on view (through May 6,2012) at
The Price Tower Arts Center, a Frank Lloyd Wright designed National Historic Landmark
in Oklahoma and which will travel to
Pasadena Museum of California Art in October 2012.

The above lamp is available for sale through R20th Century.
For more information visit The Price Tower
website
and R20th Century website.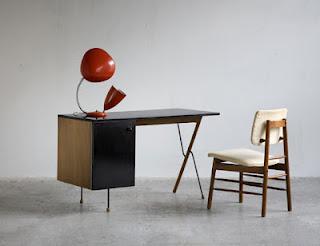 A selection of Greta Magnusson Grossman's furniture and lighting that is available at R20th in New York.