Hey, thanks for stopping by! Today I am here with the detailed GrooveKart review; an e-commerce software platform created by Mike Filsaime and John Cornetta.
The beta version initially launched on October 02, 2018. And after aggressive testing and members' feedback, the final version went LIVE on December 04, 2018.
What is GrooveKart exactly?
As mentioned above, GrooveKart is a new eCommerce platform that has more outrageously powerful standard features than the leading platforms at one insanely low price.
GrooveKart is better, easier, and more affordable , with features built-in without having to pay for expensive apps. Consider mainly it as a Shopify competitor with lower charges.
High converting templates, timers, scarcity, social proof, reviews, funnels, upsells, downsells, bumps, retargeting, analytics, and so much more.
You can sell your products with variants like size and colors, you can have categories, powerful reporting, analytics intelligence, customer lookup, powerful shipping features, powerful Free Native apps, a built-in support desk, and customize your look and feel.
My favorite part - You can switch from your Shopify store in seconds with the 1-click import feature of Groove Kart (aka groove cart).
It allows you to process payments using your own merchant account or GroovePay by connecting through Authorize.net. The platform also offers STRIPE and PayPal.
Though all the GrooveKart features are listed on the official website, here is the killer list:
A true plug-and-play solution: Groove Kart's user interface is beginner-friendly. It is simple and easy to use with no web developers needed.
Taking payments is easy: You are never charged a fee per transaction as other eCommerce platforms do. You can accept the payments on your terms from around the world. (Groove Kart currently supports PayPal, Stripe, and Authorize.net)
Click and sell: You don't need any coding. Simply make a few clicks and you start making sales. You will notice an increase in conversions.
Easy switch from Shopify
1-Click upsells: You can add unlimited upsells without being charged extra.
GrooveKart Studio: Includes drag and drop page builder, product design tool, that allows you to drag any pattern onto apparel like backpacks, sneakers, tote bags, and even high-heel shoes and so much more. The studio also includes the GK AliConnect with automated drop shipping and Print on Demand Apparel.
Built-in integration with Teescape, and
Built-in helpdesk.
What makes GrooveKart different?
It offers you more ways to convert and make money.
Have more features for less built-in.
Over 20 built-in apps and more coming that you pay EXTRA at Shopify.
Don't charge you a transaction fee per sale like Shopify. Your profits are yours.
Tools to help you like GrooveKart Studio.
Built-in with 3 print on demand systems to help you add instant products to your store to make money.
Checkout pages are focused on conversion.
So much more!
There are actually too many to list, check them all out here .
Demo of the Software Platform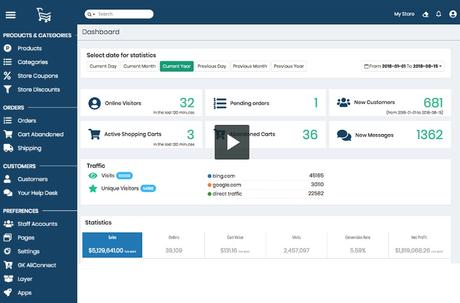 GrooveKart Cost to SignUp

People normally search for the
actual cost
of the GrooveKart e-commerce platform. So, let me tell you that there are
TWO pricing plans
when you decide to sign-up:
You can pay through your Visa, Mastercard, American Express, or Discover card. If that's not enough, you can also pay via PayPal. I believe the payment options are wide here?
P.S. - All the GrooveKart features have been unlocked and ready to use.
Refund & Cancellation Policy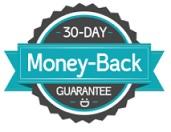 Groove Kart offers a 30-day, 100% money-back guarantee on your license access to https://www.groovekart.com/. The guarantee period begins on the first day of your purchase.
This means if you are not satisfied with the platform, you need to email the support team and ask for a refund within 30 days.
Also, if you opted for the payment plan and/or don't want your card to be charged, email immediately before a debit. Though the team is kind enough to hear your request, it is better not to task a chance.
Email them on time!
Where to Login?
I have seen many paid members looking for the GrooveKart login page URL (account sign-in page). You need to know that you receive an email immediately after you enroll/pay for the platform.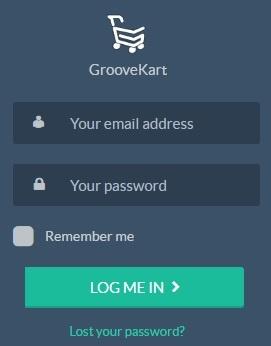 And, if you haven't received any email, there are 3 possible reasons :
you entered an incorrect email address (or mistyped it) during the registration process,
the email went into the spam folder
login was not generated due to technical glitches.
So, in case you are looking for the login page, the GrooveKart software dashboard can be accessed at https://my.groovekart.com/.
And to access the studio builder, go here - https://studio.groovekart.com/
Simply enter the username and password you received in your email after you signed up. (P.S. - Sometimes you may have to re-login to access the studio builder)
You can, in any of the above cases, contact the support team at [email protected] for your login inquiries.
Also, if you have lost or forgotten your password, simply click "Forgot Password" on the login page.
If you have ANY questions related to the platform, feel free to contact their customer support team at [email protected]. Or, you can also check their FAQs and submit a support ticket at support.groovekart.com
My GrooveKart Review

Honestly speaking, GrooveKart has made my e-commerce business much easier. You don't have to worry about the add-on expenses or transaction fees that other platforms charge otherwise.
Also, the unique drag and drop elements make the store building experience more exciting. I like how quickly one can design products like t-shirts, cups, cushion covers, wall paintings, and even sneakers. There are over 300 pre-made premium designs for your store!
However, one thing that's missing is the lack of training videos and tutorials. You will have to spend some time understanding how the process works.
And, if you are new to e-commerce, then you will need some training as well.
Mike Filsaime and John Cornetta released a detailed e-commerce course with the training videos recently. It has all the information handy to build and scale your online business.
It is the one-stop eCommerce academy to learn how to build and scale your online store/business.
Also, all previous accounts were being upgraded automatically. So, even if you subscribed to the GrooveKart platform during its beta launch, you will still get access to the upcoming course at no additional cost.
Now, if you are thinking about what was different in the beta , then it was the discounted price and testing opportunity. Since Groove Kart was being launched for the first time, members may have come across some technical glitches.
Shopify vs GrooveKart
Shopify and Groovekart are both online selling platforms that provide the service to set up an online store, promote it, sell products and get them shipped.
You can carry out tasks like managing orders, taking care of shipping, and the payments from just one dashboard.
Now, what is special about the relatively new Groovekart? How is it different from Shopify? Well, there are many reasons that make Groovekart better than Shopify!
Great for beginners
Building your e-store is way easier with Groovekart when compared to Shopify especially if you are just starting out!
As a novice, the chances are high that you would not be aware of the tiny details of e-commerce, and having an easy platform would be of immense help. Groovekart is, therefore, the best choice for beginners.
Affordable
Money matters for every business and when you have a better e-commerce platform that is cheaper than Shopify, wouldn't you want to choose that?
You would be saving a lot on the investment part and can actually use that saved money on another area of your business.
Easily convertible
An existing e-commerce store using the Shopify platform can be switched over to Groovekart in just a single click.
The ease of the whole process is making businesses shift to the new e-commerce platform.
More social media tools
Groovekart has more features compared to Shopify and one of them is the availability of more social media tools.
You must be aware of the fact that social media has an important role to play in helping your online business grow and therefore you must not lose the opportunity.
Easy to maintain
Groovekart is easier to maintain than Shopify and has a number of more features when compared.
Groovekart seems to be better in all regards, be it the ease of navigation, the features, or the prompt customer support. New online businesses will naturally gravitate towards Groovekart in my opinion!
Groove Kart Affiliate Sign Up
If you would like to make money with the platform and want to refer it to your audience, here is the link to sign up for the GrooveKart affiliate program.
Make sure you follow the instructions and affiliate guidelines carefully. Never violate the terms of use, else you will not be paid the earned commissions.

With your subscription through my special link, you get bonuses like never before. (no one else has offered these)
Obviously, these will help you launch your e-commerce store and business. No irrelevant or off-the-topic bonus pack!
With the GrooveKart subscription through my link, you can get a domain name of your choice at NO COST (.com, .org, .net - 1 YEAR).
>> Sign Up through my special link here to claim the bonuses
Bonus #2 - Learn How To Create Your First ECommerce Site [EBook]
Is your competition beating you out of business because they have an ONLINE presence and you don't? If you don't have an e-commerce site by now, it's TIME TO MAKE THE LEAP!!! Your Plan B for dealing with the Recession is Creating Your First e-Commerce Site.
- Learn How To Maximize Profits For Your ECommerce Store [EBook]
If you're looking to make money online, or even if you just want to increase the profits of your existing business; creating an e-commerce store is an excellent strategy.
Scratch that: this is 100% the best way to make money online and that goes for hobbyists, entrepreneurs, bloggers, and small businesses alike.
Bold claim? Sure is!
But read on to find out why we can be confident in making it.
- Learn How To Set-Up Your ECommerce Store On WordPress [8 Videos]
While WordPress is one of the best, if not the best blogging platform, it can do so much more than just a blog. WordPress has become a leader in the platform because it's easy to use, not to mention, how easy it is to install.
This quality video set walks you through each step to create your very own WordPress store in any niche you want. The store can be used to sell either physical goods or sell digital items for an almost hands-free money maker.
What else do you need?
I am sure, you are not looking for thousands of dollars bonuses that help you in NO WAY to succeed?
- I get a referral fee if you buy the Groove Kart subscription after reading my review. To be sure, please close any open sales page(s) and click this link and continue your purchase. Once you make a successful payment, email me at [email protected] for your bonuses.
*UPDATE* - Discover how to build, grow, and scale your e-commerce business with Amazon! Read my Amazing Selling Machine review.