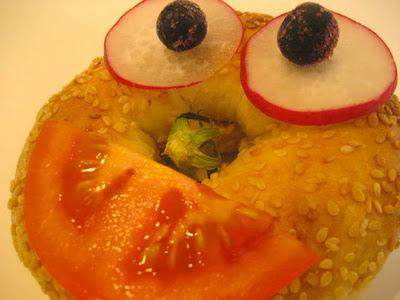 Who doesn't love a store that thinks "sale" is a four-letter word and has happy employees who ring bells and wear funny hats with Hawaiian shirts?
I am well known at the Towson Trader Joe's for my recipe binder and frequency of visits. After slipping into my secret parking spot, I can be found sipping, and sometimes spilling, my mini cup of free coffee while holding my free food sample (aka,lunch), several days a week due to incredibly poor time management.
I love my TJs visits. Socially, I always run into a neighbor and sometimes an old friend. The overly-caffeinated employees are always smiling and very eager to help with what ever you need, even if it's just a little conversation. Like a good bartender, they have the perfect ability to stay productive, yet make you feel like every word you're saying is fascinating.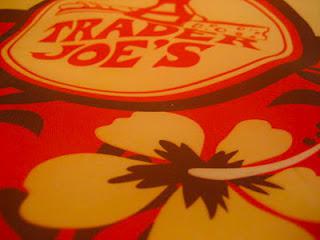 Philosophically, I love a grocery store that says no to trans fats, artificial flavors, colors or preservatives, MSG and GMOs and provides the shopper with handy, quick-read product labels such as vegan, gluten free and vegetarian, all packaged together with constant low prices.
Shopper cards make me crazy. My key chain is so cluttered with those barcoded trinkets that I recently found myself trying to scan my Preferred Shopper Card at the gym. As a recovering Whole Paycheck, I mean Whole Foods shopper, I've found that you can get nearly twice as much food at TJs versus Whole Foods.
The TJs Fearless Flyer keeps you updated with helpful product information while providing some witty comic relief along the way. They admit that eating cheese makes them want to "start singing Dickensian show tunes." Would that be a song that starts with "There is nothing better than a friend, unless it is a friend with chocolate?"  There's even a cartoon section. It ranks up there with the New York Times in our house.
I do have some product favorites right now too.
The Dark Chocolate Bar with Caramel and Black Sea Salt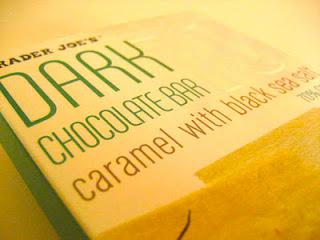 Beware, once you try this sweet and salty block of umami, you'll never be able to resist grabbing one at checkout again. It's even better in the freezer.
Chocolate Cake Mix
I admit I'm wary of cake mixes, but with two fall birthdays in our house, I was forced to venture there. Pillsbury, with its artificial everything was not an option. This cake mix, with a homemade cream cheese frosting, is decadent. Truly, it has the depth and moistness of a homemade cake.
On the slightly healthier side:
The Sesame Seed Bagel Spinoza
1 gram of fat, 9 grams of protein and it boasts to "bagel the mind." How can you resist?
Trek Mix Granola Cereal
This is my late-night snack and works great when you're having cereal for dinner too. Put some blueberries on top and you have a meal.
My only criticism, this hip, progressive company has the equivalent of snail mail for communication. Come on Trader Joe's, get a Facebook and Twitter page so I can banter with you. You could have shared this with your loyal customers.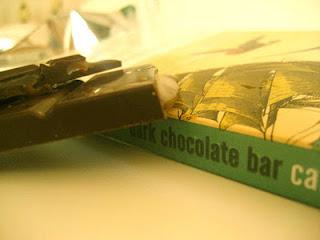 Now I get to eat that chocolate bar I just photographed.