Hi guys! Do you know what last night was?
Go To Mexico Night!
Holy Toldeo. For Top Chef University I decided to skip around and enter the Grilling portion of Cooking Techniques. And the recipe for: GRILLED MEXICAN STREET CORN had me at Hello! Then I thought we can't just eat corn for dinner… so I also made Turkey Bean Burritos.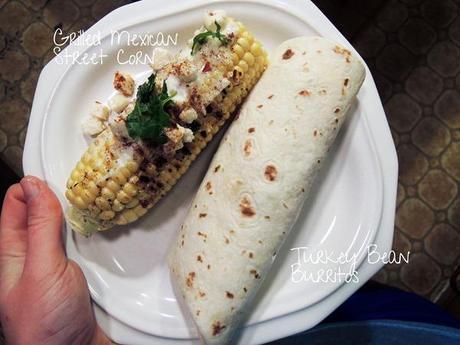 It was an epic night. I tried to invite all of you over on Twitter, but you all thought I was kidding…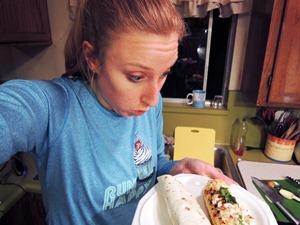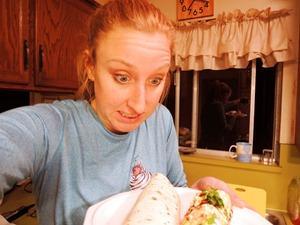 My brother has charged me with the job of Chief Burrito Maker from now until the end of eternity. (THAT'S HOW GOOD THOSE TURKEY BURRITOS WERE) It's a big responsibility but I take it whole heartedly and I'm ready to serve the family with my burrito making skills of awesome.
Some things I'd never done when making Grilled Mexican Street Corn:
I bought and used queso fresco… I didn't even know where it was in the market.
I grilled corn
mayonnaise on corn is AWESOME-SAUCE!
The corn was a hit too… Let's not forget about it. I only want to have Grilled Mexican Street Corn from now on.
Turkey Bean Burritos
Makes 6 burritos. Takes 15 minutes. This photo does NOT do it justice.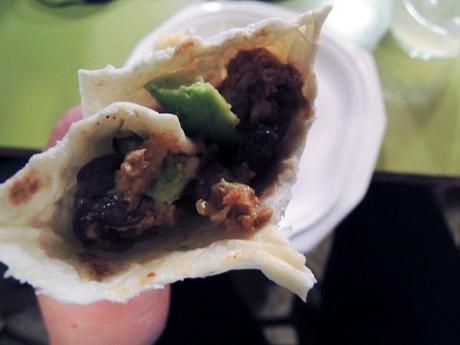 Ingredients
1 package (~1lb) lean ground turkey
1 taco seasoning packet
1 can whole black beans
your favorite salsa
1 avocado, pitted and sliced
1 cup mexican cheese blend
the fluffy medium-sized tortillas (makes all the difference!! Get the fluffy ones)
Directions
Start by putting the ground turkey in a sauté pan on medium high heat. Begin to brown, about a minute or two. Add 2 TBSP water and the entire taco seasoning packet. Continue to brown and mix. Cook until meat is completely browned and cooked through.
Add beans and cheese to taco meat and turn off the heat. Fold together until cheese is mostly melty and everything is incorporated.
Heat the tortillas in the microwave for 45 seconds. Top your tortilla with some taco meat mixture, a few slices of avocado and salsa. Fold in one side then roll the burrito.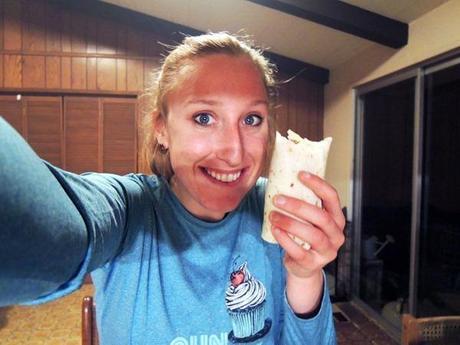 Here's the Mis en Place.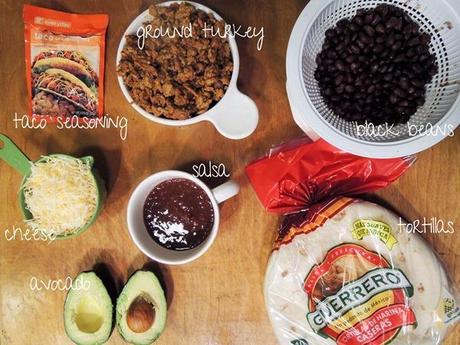 The key to this recipe and all it's awesomness is to not add all that water to the taco meat like the seasoning packet suggests. Just trust me!
The mixture will look dry at first. But as the taco meat cooks fat and liquid is released and it'll be perfect.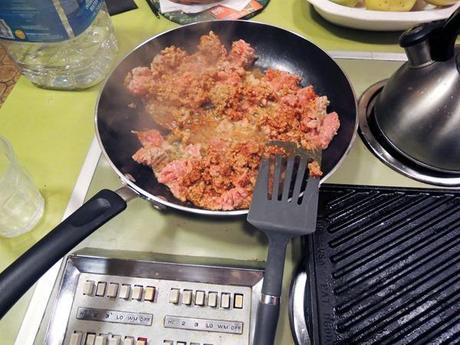 see…
I turned the heat off then added the cheese and beans so the cheese was 'just melty' not all melted and messy.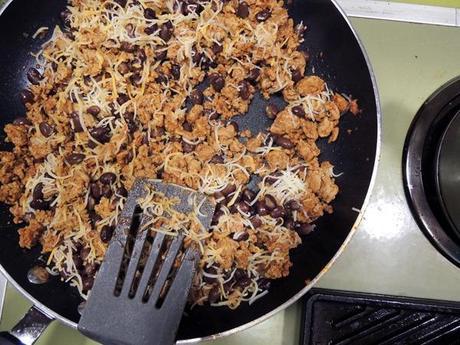 TACO MAKING STATION: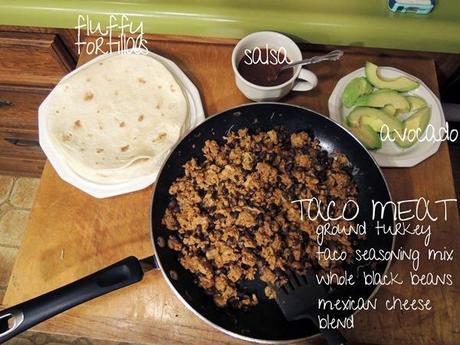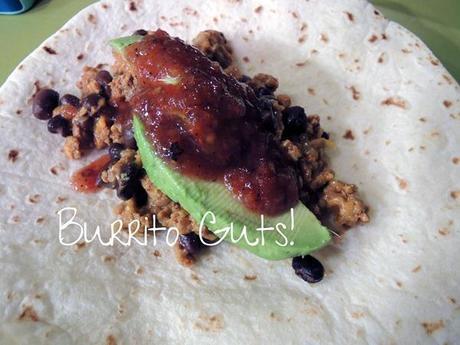 Ahaha. I'm eating one right now for breakfast…
Grilled Mexican Street Corn
Makes 6 ears of corn. Takes 30 minutes.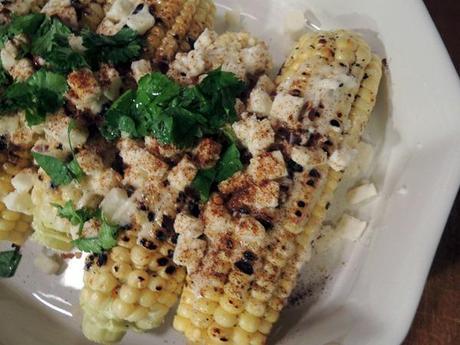 Ingredients
6 ears of fresh corn
1 cup of mayonnaise
3/4 cup of finely crumbled queso fresco
1 teaspoon chili powder
1/4 cup finely chopped cilantro
2 limes, cut into wedges
Directions
Remove husks of corn and drizzle with a little olive oil. Season with salt and pepper. Heat grill to high and wipe down with oil-blotted towels to clean and create a non-stick surface. Grill corn 3-4 minutes per side until it is nicely charred.
Remove from grill and while still warm slather with a thin layer of mayonnaise. Sprinkle with queso, chile powder and cilantro. Finish with a squeeze of fresh lime juice.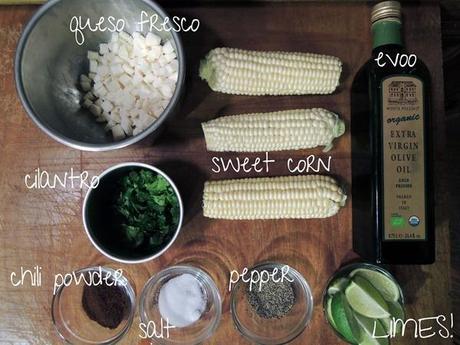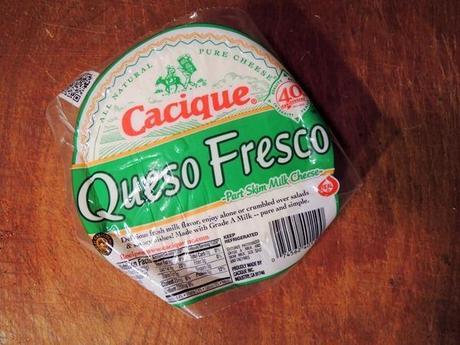 I was freaking out in the grocery store, to the point of tears, because I couldn't find Queso Fresco. I went to both cheese areas, and couldn't find it. Finally I asked a guy who didn't know. Luckily my checker knew exactly where it was… the end of aisle 16… but really it was at the end of 18.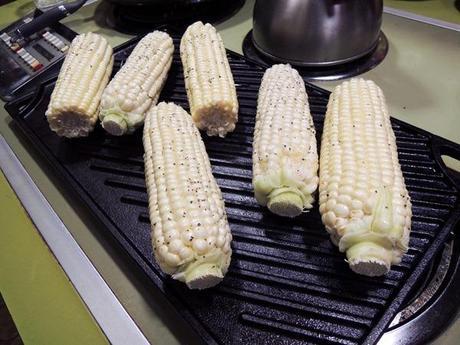 Grilling the corn made an insane amount of smoke in my kitchen. If I had smoke detectors I'd have been in trouble.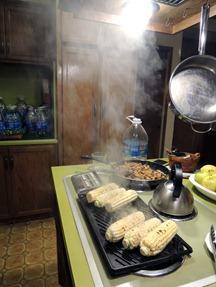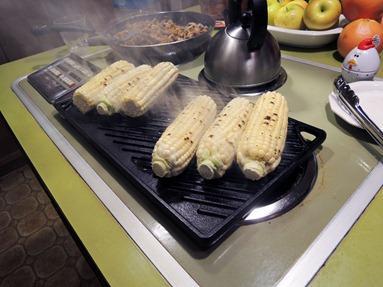 The corn turned out to be a major attention whore so here's a montage…