These grilled Caribbean jerk chicken wings feature a traditional jerk marinade that's got the perfect amount of spice & a ton of flavor!
One of the reasons I love to cook is that you can recreate a moment in time. As an obsessive traveler, I'm always inspired by local food, and I'm always looking to recreate a vacation meal at home. I'm especially fond of the delicious flavors and eclectic cultures of the Caribbean. My Caribbean jerk chicken wings are inspired by the distinctive flavors of Jamaica. Jerk seasoning is a blend of spices and aromatics that gives grilled meats a unique kick, with heavy notes of allspice, garlic, ginger and of course, heat! The good thing about this recipe is, you can temper the heat to your particular taste. Make these jerk chicken wings next time you're craving a trip to the islands.
What Is Jerk Seasoning Made Of?

Jerk is a style of cooking native to Jamaica, in which meat is dry-rubbed or wet marinated with a hot spice mixture called Jamaican jerk spice. Jerk seasoning principally consists of allspice and Scotch bonnet peppers. Other ingredients may include cloves, cinnamon, scallions, nutmeg, thyme, garlic, brown sugar, ginger, and salt.
The word jerk is said to come from , a Spanish term of Quechua origin for jerked or dried meat, which eventually became the word jerky in English. Jerk is also derived from the action of "jerking", which referred to poking meat with holes so that flavor could more easily be absorbed.
What Kind Of Chicken To Use For Jerk Chicken?
I love using chicken wings for this recipe because they marinate & cook quickly. You can also use chicken thighs, legs, and breasts. I prefer bone-in chicken for this recipe because it helps the chicken stay juicy on the grill. You can also use this recipe on fish, shrimp, pork or turkey, jerk marinade goes well with lots of proteins!
How Long To Marinate Jerk Chicken
Place the chicken wings into a large ziptop bag, and pour the jerk marinade over the chicken. Zip the bag and swish to coat the chicken in the jerk seasoning. Place in the refrigerator and marinate for at least 4 hours, but preferably overnight. Jerk seasoning gets better as it sits, and it makes time to penetrate the meat, so make sure to give the chicken enough time to marinate.
Hot Tip: you can also freeze extra prepared jerk marinade and save it for next time. Pour the marinade into ice cube tray and freeze it, then put the frozen jerk cubes into a zip top plastic bag. When you're ready to use the marinade, defrost the jerk marinade cubes in a microwave and use as needed.
How To Grill Jerk Chicken Wings
Heat a grill to low heat (you want to cook these low and slow). Place the chicken wings onto the grill. Cook over low flame for 25-35 minutes, turning occasionally to brown all sides. Cook until the chicken is well browned, and no longer pink in the middle. The juices should run clear when you cut into the chicken. You can check the chicken with a meat thermometer for best results, it should read 165 degrees F in the thickest part of the chicken.
What To Serve With Jerk Chicken Wings
Serve these Caribbean jerk chicken wings with my super popular recipe for Arroz con Gandules and Tostones for a delicious Caribbean fusion dinner.
Check out these other Carribean inspired recipes from Delish D'Lites: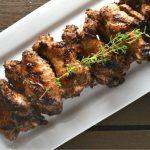 Caribbean Jerk Chicken Wings