Sometimes the best recipes are the ones we never intended to make.  As a culinary optimist, I try not to use the word "mistake" if I can avoid it.  I'd rather just tweak the recipe to avoid embarrassment and self-deprecation – calling an audible, if you will.  Life is much easier this way.
This is exactly what happened two weeks ago, when I decided to cook a 4-course meal for 40 of my closest friends.  The menu was way too ambitious for me not to screw something up.  And I did, gloriously, within the first 15 minutes of service.  While frantically mixing 40 la paloma cocktails for my guests, I completely forgot about the avocados I'd put on the grill.  The smell of burnt vegetable slowly wafted into the kitchen, inciting puzzled looks from the handful of people standing in the kitchen.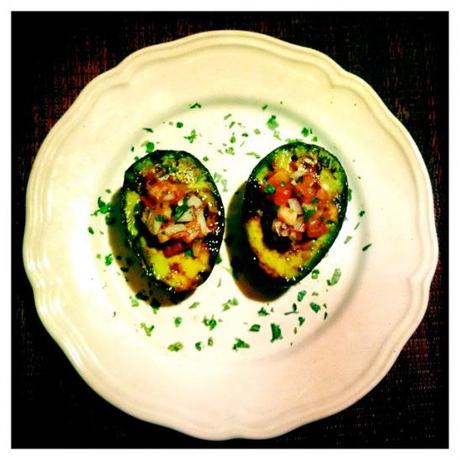 Defeated, I enlisted a friend to recover the charred corpses and bring them inside so I could survey the damage.  They were supposed to be beautifully green with neat little grill marks, like the perfect asparagus you might find in a July edition of Food & Wine.  Instead my avocados were completely black.  In fact, I'm not sure if they were even avocados anymore.  But I wasn't about to waste $40 in produce, nor did I have any backup plan for the grilled avocado salad I'd promised everyone.
This is where the word "mistake" comes in.  But being the eternal optimist, I decided to peel the burnt skin off one of the avocados in a last-minute act of desperation.  To my surprise, the skin came off smoothly, revealing a soft interior of bright green avocado flesh.  Suddenly hope was not lost.  In fact, the new version tasted even better than the original.  Smoky and sweet, without the acrid char that accompanies the majority of conventional barbecue fare.
The best part?  No one noticed.  In fact, I received more compliments on that shoddy avocado than any other component of the 4-course dinner.  How's that for a mistake?
Ingredients:
1 avocado
3 tbsp lime juice
3 tbsp brown sugar
1/2 tsp chili powder
1/2 mango, diced
1 tomato, diced
1/4 onion, diced
1/2 jalapeño, minced
1/4 cup cilantro, chopped
sea salt
Directions: Preheat grill to medium-high.  Slice the avocado in half.  Remove pit and rub with 1 tbsp lime juice, 1 tbsp brown sugar, and 1/2 tsp chili powder.  Grill for 3-5 minutes on each side, until charred and soft.  Meanwhile, combine mango, tomato, onion, jalapeño, and remaining lime juice (2 tbsp) and brown sugar (2 tbsp).  Add salt to taste.  Top avocado halves with salsa and cilantro.