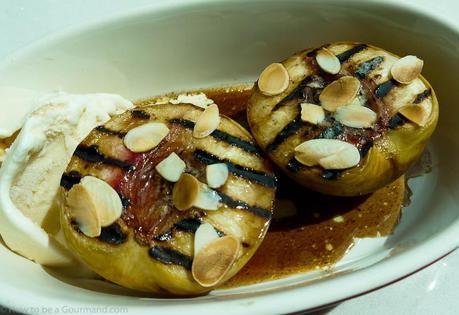 Griddled White Peaches with a Honey and Balsamic Glaze
Now that we are in the middle of August, we are well and truly in peach season. You'll notice on entering any fruit and vegetable aisle of the supermarket, peaches and nectarines are in abundance. Just having arrived back in London we stopped off at our local store and this fact was validated as we spotted the ubiquitous "buy one, get one free offer". In essence you could end up with 16 peaches! What am I going to do with 16 peaches?  If you are very disciplined about eating fruit, then you may have no problem eating all of these before their shelf life expires but I think if I were to eat them just as regular fruit, the appeal would soon wear off. What do you think?
Peaches in Season
Image courtesy of porbital / FreeDigitalPhotos.net
If I have a plentiful supply of peaches, then yes, I may consume some of them as a healthy snack, or as part of a fruit salad for breakfast, but I also want to include them as a dessert. I made this dish in Hong Kong where Japanese white peaches are widely available. I really love the look of the white peach ; a white flesh, almost apple-like in appearance with a rose pink center. I found that these peaches have a more subtle taste to them compared to the more intensely flavoured orange flesh ones commonly found in British supermarkets (often sourced in Spain).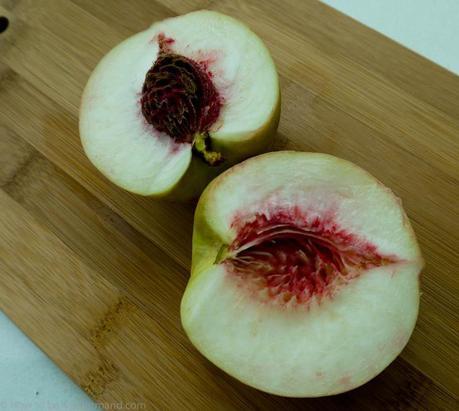 Beautiful white Japanese peaches
This dessert is very simple and you must know by now – I love simple creations

. The recipe has been slightly adapted from the
BBC Good Food website
. In no time at all you can make a sweet treat or dessert with the peaches or nectarines you have left over in the fruit basket.
An additional plus of this dish, aside from the taste, is the vanilla aroma emanating from the kitchen and filling your home with sweet, warm notes. I recall seeing a property show that stated you can enhance the appeal of your house by heating up some vanilla before prospective buyers come round to view the property. Not a bad tip, I can understand why!
There is something very comforting about eating warm fruit too, isn't there? Enough to give you an "ahhhhh" moment!
Although I used white peaches, regular peaches and nectarines would work equally well with this recipe. This is what you will need: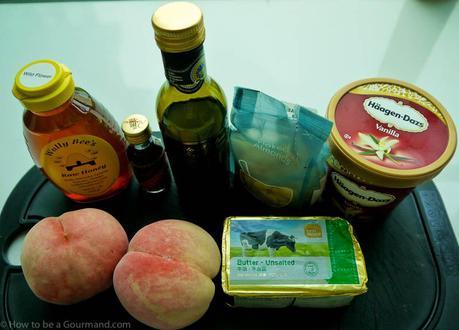 Ingredients for Griddled White Peaches with Honey and Balsamic Glaze
Print Griddled White Peaches with a Honey and Balsamic Glaze
Prep Time: 5 minutes
Cook Time: 16 minutes
Total Time: 21 minutes
Serving Size: Serves 2 for Dessert
A quick and easy dessert for leftover peaches and nectarines
Ingredients
2 white peaches, stoned and cut into halves
1 tsp vanilla extract
3 tbsp of balsamic vinegar
3 tbsp of clear honey
4 tbsp of water
2 tbsp of melted butter, stored in a separate dish.
1 tbsp of flaked almonds, toasted
2 scoops of vanilla ice cream
Instructions
Pre-heat oven at 180°C
In a bowl mix together the honey, balsamic vinegar, water and vanilla.
Use 1 tbsp of the melted butter and coat each peach half and place on a hot griddled pan flesh down until an even charred look is achieved. This could take up to 1 minute.
Remove the peach halves and place in an ovenproof dish, with the charred flesh facing upwards.
With the remaining melted butter, coat the peach halves once more and dress each peach half with the glaze. The heat will reduce the glaze.
Bake the peach halves in the oven for 15 minutes.
Sprinkle with toasted almonds and serve with vanilla ice cream.
Schema/Recipe SEO Data Markup by ZipList Recipe Plugin2.0http://howtobeagourmand.com/griddled-white-peaches-with-a-honey-and-balsamic-glaze/Unless otherwise stated, text and photographs © 2011 How to be Gourmand. All Rights Reserved. Kindly request permission from the author to copy or reproduce elements of this blog.
I'm adding this recipe to the One Ingredient challenge, hosted this month by Nazima of Working London Mummy, but hosted on alternate months by Laura of How to Cook Good Food.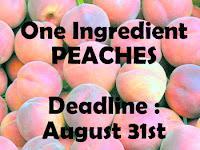 There is a beautiful selection of entries already including Nazima's post of Nectarine, Orange Flower and Almond Filo Tart.  The description itself is simply mouthwatering isn't it? Have a look and be inspired!
What is your favorite way of eating peaches ? Do let me know in the comments below!
Like How to be a Gourmand on Facebook.