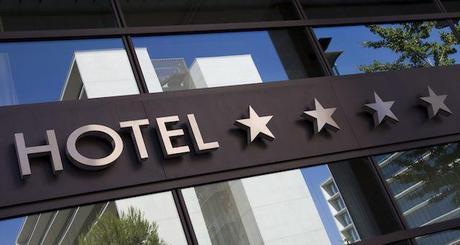 You devote a lot time getting your brand just right on online review sites like Yelp and TripAdvisor. But what impression do you make on guests when they arrive at your hotel?
Signage is one of the most basic — yet overlooked — part of hotel marketing. Here are five types of signage every establishment should have to speak to guests.
Main Business Sign
When guests arrive, are they greeted with a well-designed sign that reflects your brand? Or do they reconsider their stay because your weathered and faded sign looks like it's from the set of a horror film? Learn more about on-premise signage by reading "Create a More Lasting Impression of Your Brand with Signage."
Reception Sign
As you greet guests and get them checked in, use reception-area signage to communicate important policies, such as check-out time, or promote events, such as daily breakfast specials.
Room Signs
Those ubiquitous room numbers on doors do more than indicate where guests reside during their stay; they convey a hotel's brand as guests enter their rooms. Even the color of room signage can affect guest experience.
Emergency Signs
Beyond providing an outstanding experience, hoteliers are obligated to protect their guests. Plan the placement of emergency exit and route signs to ensure their safety. You can pick up some tips on how typography affects readability by reviewing, "Sign of the Times: Typography and the Aging Eye."
Window Graphics
Lobby windows are natural canvasses for marketing messages, too. For example, you can use window graphics to welcome convention attendees who are staying at your hotel, or advertise a hotel eatery to locals who may be passing by. Learn how to seize a window of opportunity with these graphics by reading, "Three Ways to Grab Attention with Window Graphics."