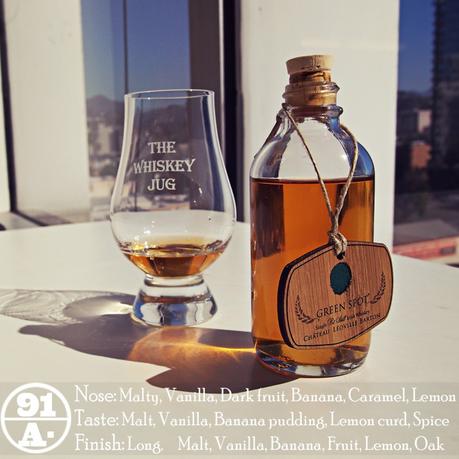 The first time I read the name Green Spot Château Léoville Barton I immediately thought of Kentucky. Being a bourbon fan, on top of a Scotch and Irish fan, I can't help but think of KY when I see Barton, especially when it's preceded by a word that looks so close to the pronunciation of Louisville. True some of the whiskey inside this bottle was aged in ex-bourbon casks from Kentucky, but Château Léoville Barton has nothing to do with Kentucky, let alone America. As you might have already suspected, it's French.
The Green Spot Château Léoville Barton starts out as a traditional Green Spot Irish Whiskey which is aged in a combination of ex-bourbon casks (75%) and ex-Oloroso sherry casks (25%) for 7-10 years. That whiskey is then put into French Oak casks previously used to age wine from the Château Léoville Barton in Bordeaux and set aside to finish for 12-24 months to give the whiskey added richness and depth. Or at least that's the plan, let's see how it worked out in the Green Spot Château Léoville Barton Review below!
Green Spot Château Léoville Barton Info
Region: Cork, Ireland
Distiller: Midleton (Jameson)
Mashbill: 100% Irish Single Pot Still (Malted & Unmalted Barley)
Cask: ex-Bourbon, ex-Oloroso & ex-Château Léoville Barton wine casks
Age: NAS (original is 7-10 years + 1-2 years finishing)
ABV: 46%
Non-Chill Filtered | Natural Color
Price: $100*
Green Spot Château Léoville Barton Review
EYE
Ruddy straw
NOSE
Malty sweetness and vanilla butter cream frosting flow out with twisting notes of dark fruity sweetness, waxy banana taffy, caramel and lemon curd with a blueberry compote underpinning. I'm enamored with this aroma.
PALATE
Single pot still whiskey stirs things up inside me in a way I can't fully explain and if it's then layered with notes of vanilla butter cream frosting, banana pudding, lemon curd, baking spice, toffee, pear heavy orchard fruit and light notes of almonds and oak… forget about it. I'm in heaven.
FINISH
Long and malty (SPS) with facets of vanilla butter cream frosting, banana, orchard fruit, lemon curd and an earthy oakiness.
BALANCE, BODY & FEEL
Excellent balance, rich round body and a slick heavy feel that runs a bit hot.
OVERALL
Green Spot Château Léoville Barton is sweet, complex and balanced. The nose is fantastic, but the palate steals the show with its robust depth and complexity. I really enjoy the regular Green Spot, I think it's a lovely whiskey and the added wine cask finishing enhances it in every conceivable way.
Tasting the two side by side the mouthfeel of the Green Spot Château Léoville Barton is noticeably richer and fuller than the the original and across the senses the whiskey carries more weight and depth. There are so many types of wine casks, finishes, etc. that could have been done on this whiskey and the choice to use these particular ones was as a stroke of genius because it compliments the original spirit incredibly well.
SCORE: 91/100
*Disclosure: This sample of Green Spot Château Léoville Barton was graciously sent to me by the company for the purposes of this review. The views, opinions, and tasting notes are 100% my own.