Signature cocktails are such an easy and fun way to add more personality to your wedding. If you're having a cocktail hour, it's the perfect way to incorporate your colors and theme into this sometimes overlooked part of the wedding. After all, it's such a short time that your florist won't likely recommend spending a lot of your budget on decor, and the food should be a tempting preview of what's to come for dinner, rather than an all out flavor extravaganza. The cocktails are naturally the focal point of this part of the celebration, so why not share something special with your guests? Your caterer should be able to have the necessary ingredients on hand, as long as you give them the recipe in advance. You and your groom should think of a fun name for your cocktail that reflects your tastes, new name, or a funny story you'd like to share. You can then create (or have someone else make) a pretty sign with the names of your cocktail(s), the ingredients, and why a dark and stormy is your groom's favorite drink. There are cocktails to match your theme, cocktails to match your color scheme, but one of our favorite ways to flavor profile is by season – so check our these perfect summer wedding signature cocktail ideas.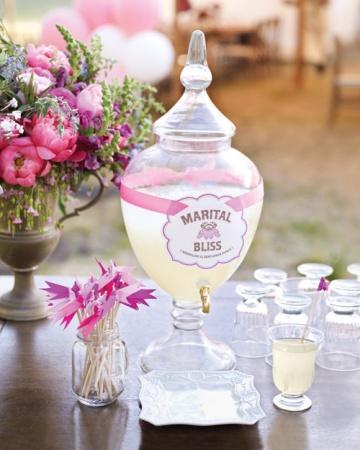 via Martha Stewart Weddings
This deliciously light looking drink is a mix of St. Germain elderflower liqueur, Hendrick's gin, lime, and soda dreamed up by Jeffrey Porter. The couple added "branding" with their colors on cute drink stirrer flags and a label in their type and colors.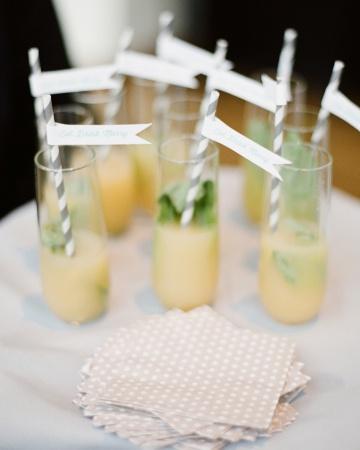 via Martha Stewart
These craft cocktails are perfect for the couple who loves trying adventurous flavors. A basil and gin martini gets festooned with cute striped paper straws and flags emblazoned with "Eat, Drink & Be Married."
via Sugar and Cloth
Are you the type to order dessert before dinner? Show off your love of spontaneity (and your sweet tooth) by serving a little cake before dinner – namely these salted caramel vanilla ice cream cake shots (yum.)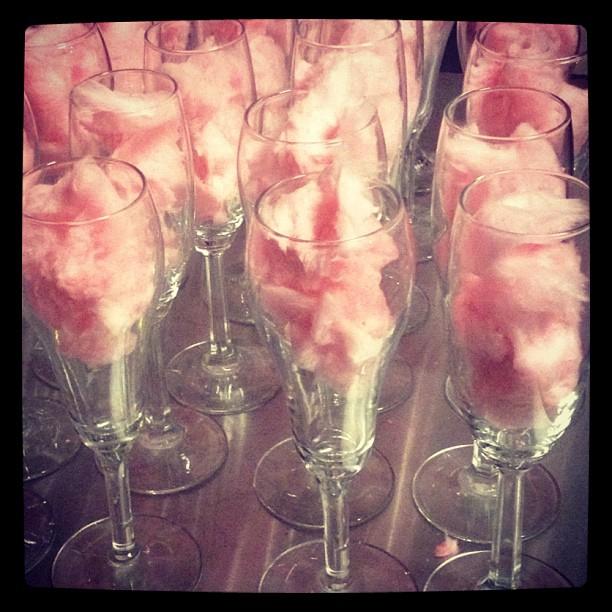 via CL_Events on Instagram
On that same sweet note – why not get a little bit more whimsical and serve cotton candy cocktails? This is even easier to pull off (a huge plus if you're doing DIY catering) and has an incredible visual impact. Just load your favorite cocktail glasses with pieces of cotton candy and slowly pour champagne over. Voila!