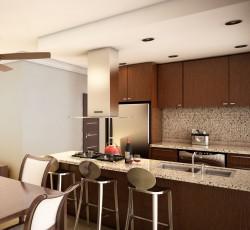 It is an instrument adopted by house Realtors and flippers in many parts of the world and around the United States. Every marketer knows how powerful it is in the construction industry. What is this well known tool that enhances the selling process of a property? A well created photorealistic 3D kitchen design rendering helps to sell houses faster.
Kitchens are the sole of a residence. Most of our family moments are shared in them. In today's design styles were separation between certain spaces seem to have reached an end, the kitchen is seen from great rooms and home entrances. This fact shows how important is to produce efficient 3D kitchen rendering visuals to speedup the results of the Real Estate sales campaigns.
This rooms speaks for the design of the whole property. It is the most seen interior space of a house. This is why investors and people who will buy a home want them with renovated kitchen furniture, fixtures and decoration. You don't need to spend a lot of money to showcase your Real Estate and engage potential buyers. With a professional architectural kitchen rendering you can attract purchasers quickly. In addition to this visualization material, if you suggest different materials and furniture that are adequate for the construction zone, perhaps you avoid yourself making the investment to it before you sell it. You will negotiate with the candidate and he will be the one in charge of the kitchen renovation.